The Economic Impact of BTS's First Offline Concert in Los Angeles Estimated to Reach IDR 1.4 Trillion
According to Billboard's report, BTS' four 'PERMISSION TO DANCE ON STAGE – LA' concerts, which started on November 27 and ended on December 2, 2021, have earned a total of $33.3 billion (approximately 483 billion Rupiah).
This makes the SoFi stadium, which is the venue for BTS' concerts, with the highest gross revenue since it reopened earlier this year.
BTS' concert at the SoFi stadium also received a good score on the Billboard Boxscore, the score is based on a summary of all the shows played in one place during a particular tour.
The most superior BTS concert in California history and the second largest in North America. The K-Pop idol concert was only beaten by Bruce Springsteen with 10 shows which took place in 2003 at New Jersey's Giants Stadium.
There's no denying that BTS has made history by becoming the first Asian artist to earn more than $20 million dollars, or around IDR 290 billion from concerts.
Many businesses are also growing rapidly due to the impact of BTS's offline concerts in Los Angeles. This includes airlines, hotels, restaurants, and shops in Koreatown. The BTS concert audience, who according to the venue's representatives came from 78 countries, did a lot of shopping in Southern California.
Gene Del Vecchio, a lecturer in entertainment marketing at the University of Southern California, said that the economic impact of BTS's Los Angeles concert series could easily exceed $100 million. Because, many fans come from far away and will stay longer to maximize their time there.
One of the BTS members, Jin, in an interview once recommended the Korean BBQ restaurant Ahgassi Gopchang, so fans tried to eat at the restaurant.
Thanks to JIN BTS, the wait to enter the Korean BBQ restaurant Ahgassi Gopchang has lasted up to 5 hours.
At the Westdrift Manhattan Beach hotel, marketing manager Larry Jones said the weekend after Thanksgiving would usually be empty. However, the hotel rooms at the time of BTS's concert were almost sold out because they were half full booked by fans, ARMY.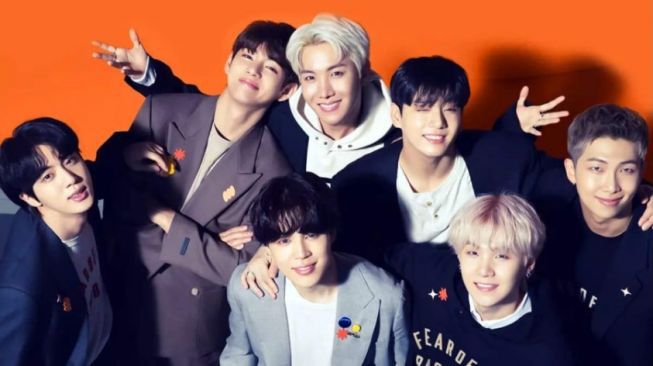 Cool! BTS Becomes First Asian Artist To Top Apple Music Global Chart
According to Naver , Apple Music has unveiled its biggest songs of the year with its annual Top 100 chart. Not only includes the most played songs, but shares the 'Top 100 2021: Fitness' chart, highlighting the most played sports music on Apple Music. Then there's the Top 100 most-read chart on Shazam, and the Top 100 most-read chart on Apple Music.
BTS' song 'Dynamite' managed to top the No. 1 as the most streamed song on Apple Music Global in 2021. That means, BTS is now the first Asian Artist in history to top the Apple Music Global chart .
This chart collects the most- streamed songs worldwide on Apple Music, starting from the period between October 16, 2020 to October 15, 2021. Meanwhile, BTS's 'Butter' took the No. 21 on Apple Music Global's Top Songs in 2021.
On Apple Music's most-read song lyrics chart in 2021, 'Dynamite' takes the No. 4, and 'Butter' took the No. 13 on the chart released by Apple Music.
In addition, on the Apple Music Top Songs chart of 2021 in Japan, 'Dynamite' also took the No. 1 on the released chart . BTS has 9 songs that enter the Top 100 of Apple Music Japan in 2021.
In addition to Apple Music, Spotify has also released a final 2021 report, and BTS is one of the most successful artists on the platform !
On December 1, 2021, Spotify published its 'Wrapped 2021' report which summarizes global streaming stats so far this year. According to Spotify data, BTS is the third most-streamed artist in 2021 after Bad Bunny and Taylor Swift.
After BTS, in fourth place is Drake, No. 5 Justin Bieber, No. 6 The Weeknd, No. 7 J. Balvin, No. 8 Ariana Grande, No. 9 Olivia Rodrigo, and at No. 9 there's Juice WRLD.