Synopsis Review Sell Your Haunted House / Great Real Estate (2021)
Fantasy comedy Korean drama series starring Jang Na Ra and Jung Yong Hwa
The Korean Drama Great Real Estate is one of the newest 2021 Korean drama series which premiered on April 14, 2021 to replace the previous series entitled " Hello, Me! ".
The drama, which is also known as " Sell ​​Your Haunted House, " is broadcast by the KBS2 TV channel every Wednesday and Thursday at 21:30 Korean time (2 episodes per day) for 16 episodes and is scheduled to run out on June 19, 2021.
This supernatural fantasy drama directed by Park Jin Suk collaborates with actress Jang Na Ra, who previously successfully starred in the drama VIP and Oh My Baby. In addition, there was Jung Yong Hwa from CNBlue who was present after he was discharged from the military. The last drama he starred in was the series " The Package " which was released in 2017.
Drama title 대박부동산 / Great Real Estate / Sell Your Haunted House (English title) / The Chronicle of Haunted Real Estate (early working title) / Daebak Real Estate
Genre/Theme Comedy , Fantasy
Number of Episodes 16 episodes
Channel KBS2
Release 14 April 2021 to 19 June 2021
Show Every Day Wednesdays and Thursdays, 9:30 p.m. KST (2 episodes per day)
Director Park Jin Suk
Writer Ha Soo Jin, Lee Young Hwa, Jung Yeon Seo
Great Real Estate Drama Brief Synopsis
Read More…
Black Widow
We Made a Beautiful Bouquet
Butt Detective the Movie
In the Mood for Love (4K Restored Version)
A Night at the Louvre
Dear friends, this drama Real Estate Exorcism or Sell Your Haunted House tells the story of a real estate agent who can exorcise ghosts and evil auras from buildings that are often used as haunts for ghosts, and the homes of the dead.
He usually cleans a building or house that is said to have a ghost. This ability he got from generation to generation from his mother. With her beauty and smart brain, Ji Ah looks perfect on the outside, but she is a hot-tempered person. He often throws his fierce fists at stubborn evil spirits.
There is also Jung Yong Hwa who plays Oh In Bum. Oh In Bum is told as a con artist who pretends to be an exorcist. In Bum doesn't believe in ghosts, but he uses people who believe in ghosts to make money.
The figure of Jung Yong Hwa who thinks quickly with a high level of observation and logical abilities, is able to make himself a perfect con artist.
Until finally, Hong Ji Ah and Oh In Bum decided to work together to solve the secret behind the death of Hong Ji Ah's mother 20 years ago. Hong Ji Ah's mother, Hong Mi Jin (Baek Eun Hye), used to be a kind-hearted exorcist and really cares about the people around her.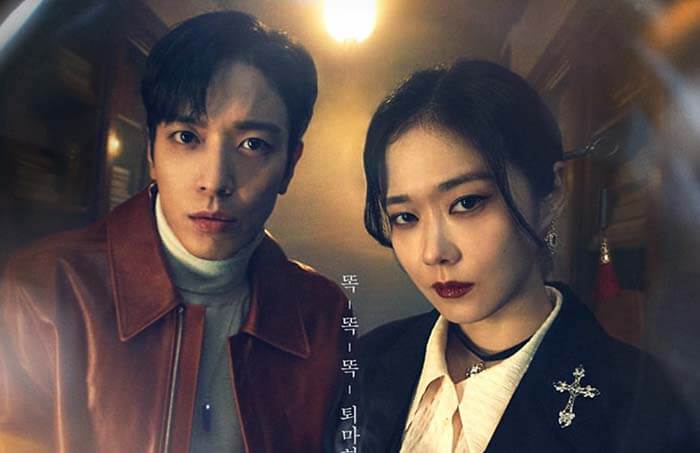 Drama Great Real Estate
Curious about the real name of this Great Real Estate drama player? For those of you who are curious, you can go directly to the list below!
1# Jang Na Ra as the character Hong Ji Ah
he is Hong Ji Ah. At his start-up, he used to sell and handle haunted properties. A haunted property usually has a low selling value, therefore he will clean up the ghosts that reside and then sell them at a high price.
2# Jung Yong Hwa as character Oh In Bum
Oh In Bum does have a handsome face and thinks quickly with a high level of observation. However, he uses this intelligence to be a fraud. He pretends to be an exorcist and makes money from anyone who uses his services. However, In Bum doesn't believe in ghosts.
3# Kang Mal Keum as Deputy Director Joo Hwa Jung character
Actor Kang Mal Geum in the drama series Sell Your Haunted House, plays the role of deputy director of Great Real Estate. He has a professional, intelligent attitude and supports Hong Ji Ah in all exorcism activities. He is also responsible for the sale of the property they have cleared.
4# Choi Woo Sung (최우성) as Hyung Shik
5# Kang Hong Suk as Chief Heo Ji Chul