Sungjae BTOB Becomes A Victim Of Lee Seung Gi's Revenge In 'Master In The House', Why?
The Latest Episode Of 'Master In The House' Which Aired On Sunday (19/12) Was Also Attended By Sungjae, A Former Member Of This Program. In The Episode, He Continued To Show Hilarious Interactions With Lee Seung Gi.
BTOB's Sungjae returned to " Master in the House " after completing his military service. He appears as a student one day along with the new master, musician Jung Jae Hyung .
As is known, Sungjae was the original member of "Master in the House" when it first aired in 2017. He left the program with Lee Sang Yoon in February 2020 to focus on preparing for his military service.
That's why Sungjae's appearance on this program successfully made the members excited. They even immediately said his name when they were told that they would have a student one day.
Lee Seung Gi said, "I started 'Master in the House' as my first variety show after being discharged from the military and at that time Yook Sungjae used to tease me a lot. He treated me like I was old."
The funny thing is, Lee Da In's lover is determined to take revenge on Sungjae who has just completed his military service. He had to be ready to accept what he did at that time."
Shortly before his appearance, Sungjae looked very nervous. However, the members welcomed him with warm hugs. He was also asked to tell viewers about his military service. I feel so nervous that I could cry."
Lee Seung Gi started to take revenge by saying, "Did you finally understand how I felt four years ago?". Sungjae then replied, "At the time, I thought you were exaggerating. But now I can understand you." I hosted the ceremony for Memorial Day and was praised by the president!"
Sungjae kept talking about his experiences in the military, just like what Lee Seung Gi did four years ago. Lee Seung Gi, who did not want to waste the opportunity for revenge, finally took revenge on the 1995-born idol. It's all right.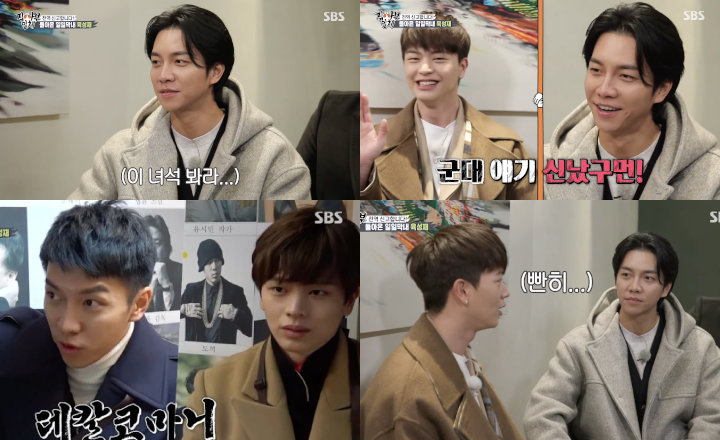 BTOB's Sungjae To Appear In The Upcoming Episode Of 'Master In The House', As A Permanent Member?
BTOB's Sungjae Will Be Appearing In The Upcoming Episode Of The Program 'Master In The House', Which Has Made Him A Permanent Member In The Past. Take A Peek At The Following Snippet.
This received enthusiastic response because Sungjae was one of the four initial cast members of this program.
So, what role will Sungjae take in his appearance next week? Will he return as a permanent member or just a guest who will add to the excitement of the event?
At first, the trailer featured various sweet moments when Sungjae was still a part of "Master in the House". As the youngest member, he always makes others laugh with his adorable behavior.
But when his graduation ceremony as a member still arrived, Sungjae tried hard to hold back tears. That's why he seems to really like the cast as well as this program.
The trailer then shows a present-day portrait of Sungjae when he returned as a student for a day. Like a soldier, he immediately saluted the older members.
After doing a brief opening, the 1995-born idol immediately showed various funny behaviors as usual. As a result, he succeeded in making the other members entertained.