She-Hulk: did you recognize this clue at the end of episode 5?
If episode 5 of She-Hulk does not welcome any prestigious guest (we got used to it), the very last scene announces the arrival of a well-known character from the Marvel universe. Spoiler alert.
The Devil of Hell's Kitchen arrives in She-Hulk . And it was enough of a plan in episode 5 to make us stampede with joy. Since Marvel announced the return of  Daredevil to our screens – after three years of good and loyal service on Netflix – we have been eagerly awaiting his appearance in the series.
His arrival is therefore teased through his famous horned mask, which changes color. Exit the red, it is adorned with a golden color, which will also be present on the rest of his costume. Exit also the character of Melvil aka the Gladiator ( Matt Gerald ) who created his outfit, he is replaced by Luke, new favorite tailor of superheroes.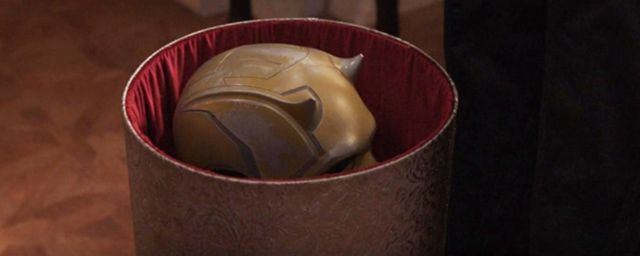 The Devil of Hell's Kitchen is coming to She-Hulk!
It's still  Charlie Cox who will play Matt Murdock in this new version. If the actor is only to appear in a single episode of She-Hulk, we can find him in his solo series, Born Again, expected in 2024 on Disney +. He will find on this occasion his great enemy of always, the Caïd, played by Vincent D'Onofrio....
We do not yet know what role Daredevil will have in She-Hulk, but remember that he shares the same job as Jennifer. Will the two lawyers face each other in court before she discovers her double identity?
In any case, episode 6 is likely to be exciting…