Now 'Idle', Chanmi AOA Openly Admits She Is Worried About The Future
While Appearing As A Guest On MBN's 'Weekly Mountaineering Association,' Chanmi Revealed How She Currently Has A Lot Of Rest Or Is Unemployed.
AOA's Chanmi appeared as a guest on MBN's " Weekly Mountaineering Association " which aired on November 15. He revealed how he currently has a lot of rest time or is unemployed.
Chanmi said, It's been a year since I started climbing. Jebibong Peak is not hard to feel the taste of blood in my throat. I feel my breath, and I think I can climb all the way up if I go up at my own pace.
I got a bit of a break from work. I thought we'd become a big group that would make the universe explode if we debuted. Everyone was like, 'Let's just make it once.' We debuted with that kind of ambition.
Chanmi then said, But it didn't go well for about three years after our debut. Yoo Se Yoon then asked, Is it because of the band concept?
That's right. Everyone said it was good, I don't know why it didn't work, but it didn't work. At that time, I was thinking about how to solve the problem in front of me, said Chanmi.
After AOA became successful, half of the contract period with the agency had passed. I thought, 'Oh, that's how idol life is so short.' As I got older, I thought it might not be something I could continue to do, so I was very anxious about the future, she said.
But I happened to have a lot of time, and I thought this was an opportunity to do what I wanted to do. So I thought, 'Let's do what I want to do,' so I started studying acting and took lessons like this.
When asked, Have you ever auditioned? Chanmi said, I've auditioned a lot. But I've also failed a lot.Yoo Se Yoon then asked, Don't all idols have agency contact points for them?
That was a misunderstanding! That's right! I also started with auditions, even the first audition where hundreds of people gathered. That's why I failed, he said with a smile.
In addition, Chanmi told her story about mountain climbing. Since last year's break, he went to his hometown after a long time and went up the mountain he used to visit every day with his mother again.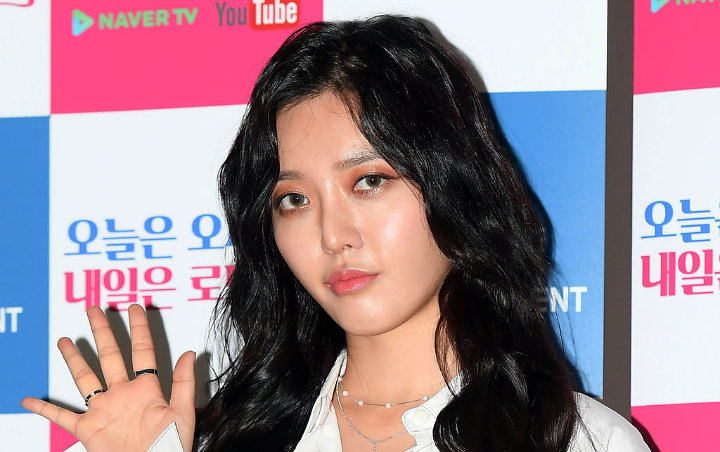 FNC Doesn't Care About Mina Being Bullied By Jimin, AOA's Chanmi's Heartbreaking Story Circulates
FNC Entertainment As AOA's Agency Drew Criticism For Ignoring Mina's Report Claiming To Be Bullied By Jimin. Chanmi's Mother's Sad Condolences About The Agency Circulated.
FNC Entertainment as AOA's agency drew criticism for ignoring reports from Kwon Mina who claimed to have been bullied by Jimin for 10 years. Following this problem, Chanmi's mother's heartbreaking story about the agency was circulating again.
Back in December 2019, Chanmi's mother, Lim Cheon Suk, sat down with Korean press Hankook Ilbo for an interview about her life as a K-Pop idol parent. This particular interview reappeared to explain FNC Entertainment's "incompetence" and "lack of respect" for the members.
Lim Cheon Suk revealed, Chanmi hasn't been paid for five years. In her third year, she fell into a deep depression. One day, around 4 pm, Chanmi's agency called me. They said Chanmi disappeared that morning. And the agency had banned her from using her personal cell phone, so Chanmi didn't have it. I was able to email him, which he checked on his iPad. He sent me a reply email. So I quickly closed my hair salon and took the train to Seoul. I got to the city and emailed him again. I was able to track him down. When I finally sat him down in front of me, I asked him if he had eaten. He said no. I took him to a restaurant, but he didn't eat anything. We checked into the motel and spent the night there. The next day, I took him to the Han River.I didn't ask him anything until then.
Their dorm used to be in an apartment on the 9th floor and I was worried Chanmi would try to jump in or something. I can't stop thinking about the possibilities. For two months, Chanmi didn't want to look me in the eye or talk to me.
Fans pointed out that Chanmi's heartbreaking struggles with mental health as recounted in the interview only show that FNC actually doesn't care about the members at all. This infuriates.
The people at the agency are a bunch of demons, commented netizens. This agency is really trash, added another netizen. My heart is torn reading this, said another. Does FNC not care about its artists? concluded another.
Meanwhile, FNC has not yet responded to the controversy surrounding Mina and Jimin. Mina herself explained that the AOA members, including Jimin, came to her house to talk. Jimin is said to have apologized for his actions.