New IVE Debut Announces Fan's Fandom Name
After Officially Debuting On December 1, IVE Managed To Steal The Attention Of Fans Because Of Its Visuals And Appearance On Stage So That Now Officially This One Girl Group Has A Fandom Name.
After officially debuting on December 1, IVE has managed to get achievements on music shows in a short time. Recently, it was reported that the girl group under Starship Entertainment has now decided on a fandom name or fan name.
On Friday (10/12), in the video they just uploaded, IVE members revealed their official fan club name, "DIVE". Based on the members' explanations, the fandom name was inspired by the introduction of the IVE group, "Dive into IVE!"
The announcement of the fandom name of this fan was officially announced a week after IVE made their official debut with the release of the first single album "Eleven". The name of the DIVE fandom immediately became a hot topic for fans who thought it was very fun and sweet.
IVE's agency previously stated a change in the team's introduction movement due to the hand sign controversy which was previously similar to another girl group, EVERGLOW . The agency released a statement about the similarity of the movement saying that it was not aware of it. However, they promised to change the girl's moves to be used in future TV shows.
As is known, on December 6, United States Billboard revealed that IVE's debut song "Eleven" managed to rank 12 on the World Digital Song Sales chart. In addition, it ranks at 7 and 3 on the Kpop Daily Line Music chart, respectively.
Furthermore, IVE recorded a high number of views for each content served. They also dominate global Twitter real-time trends every day since before the official debut date.
Meanwhile, IVE itself has six members, including Gaeun , Ahn Yujin , Liz , Leeseo , Rei and Jang Won Young . This girl group performed a unique dance in the music video for "Eleven" in which one of the movements was like biting food.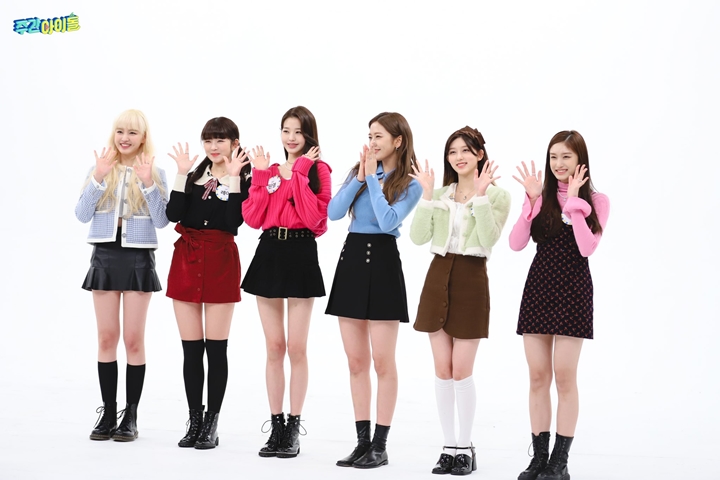 IVE's Familiar Moments, The Fastest First Win Girl Group Winner In K-Pop History
The Right Decision For Starship To Debut Ahn Yujin Cs In A Group Called IVE. The Reason Is, IVE Is The Girl Group With The Fastest Wins On Music Shows In K-Pop History.
IVE succeeded in shifting ITZY as the girl group with the fastest first win in K-Pop history. IVE won its first trophy on MBC " Show Champion " on Wednesday (8/12) yesterday.
The rookie group debuted through the song "Eleven" on December 1. IVE only took 7 days to take home its first trophy on a music show. This achievement managed to beat ITZY's record which won its first win on the 9th day after debuting in 2019.
Young and talented, IVE also achieved a number of proud achievements for a rookie idol , such as the highest debut album sales on the first day. Following are a series of intimate and harmonious moments of IVE personnel.
1. Enthusiastic When Doing Debut Showcase
Ahn Yujin cs looked enthusiastic when they made their debut showcase on Wednesday (1/12) at 18:00 KST. At the event, IVE revealed the origin of the group name which is an abbreviation of "I HAVE". IVE debuted with the album "Eleven" consisting of two songs. The song "Eleven" is a dance pop music genre . While the single "Take It" is a song with a touch of EDM and trap music .
2. Appear Harmoniously During Dance Practice
Video dance practice is mandatory for all idols who make a comeback . IVE certainly didn't want to miss it and released the video on Tuesday (7/12). This six-member girl group looks harmonious in black and white outfits.
3. Stand Out While Shooting
IVE has just released behind-the-scenes photos for the "Eleven" album photoshoot. In the portrait, Ahn Yujin and Jang Won Young are sitting on chairs. Liz and Rei stood in the front row. Meanwhile, Gaeul and Leeseo sat on the floor at the very front. The visuals of each member look stand out and shine.
4. Show Bright Charm In Latest Video
As a new girl group, IVE has already provided content for its fans entitled "1,2,3 IVE". On Monday (6/12), IVE released the first episode of the vlog showing their busy schedule in preparing for their debut. In the video, IVE also shows their bright charm as idols.
5. Release The Fan Club Name
Through the official SNS account, IVE announced its fandom name on Friday (10/12). IVE decided to name their fans as DIVE. This name is the same as their greeting , "DIVE into IVE".
6. Promote To Radio Programs
IVE not only promoted the song "Eleven" on music shows, but also to a number of radio programs, one of which was " Idol Radio ". IVE was present in the 36th episode which was broadcast live on Thursday (9/12). The members were seen having fun chatting with Ha Sung Woon and Jeong Se Woon as the host.
7. Charming With Feminine Style
The younger sister of Cosmic Girls also had the opportunity to be a guest on MBC's " Weekly Idol " episode 152. IVE looks charming in a feminine outfit. The rookie idols also displayed their charms by dancing to their senior hit songs at Starship Entertainment.