Michael Zorc: Two lives for black and yellow
44 years in the service of Borussia Dortmund are coming to an end: Michael Zorc leaves a life's work at BVB.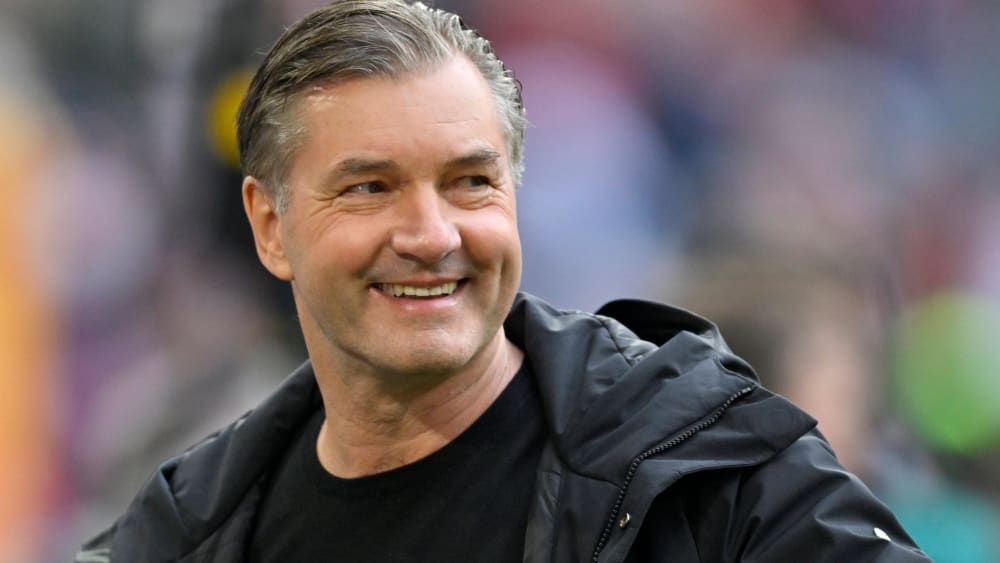 Talents have already been broken by more modest comparisons. This young German reminds him of Franz Beckenbauer, mused Inter coach legend Helenio Herrera during the World Junior Championships in October 1981 in Australia. Michael Zorc was the name of the black-maned libero of the German team that won the final against Qatar 4-0 in Sydney.
And this Zorc, newly crowned world champion and Silver Ball winner as the tournament's second best player? After his return, he sat down and studied for his A-levels at the Dortmund Heisenberg-Gymnasium – final grade 2.9, topic in the oral geography exam: the Peruvian irrigation system.
Six days after the World Cup final, he was back on the pitch 16,500 kilometers away and made his Bundesliga debut for Borussia Dortmund under Branko Zebec, the very first of 572 games as a professional in black and yellow. The boy from Dortmund-Eving, who used to be in the stands in the stadium and cheered on BVB's second division footballers, was suddenly in the thick of things – and he shouldn't go anymore.
Zorc became more and more important as a player for his home club, initially parallel to the sports promotion group of the Bundeswehr in Essen-Kupferdreh and then to studying economics at the University of Dortmund.
A real worker
A worker who rightly wore the 8 on his back. Always on the move between defense and attack, active up front, active at the back, calm on the ball, strong in the air, loyal, reliable, reliable and incredibly effective: the record Bundesliga player for BVB scored 159 goals for his club and converted 49 of 57 penalties – poor decision-making was not noticeable even as a player.
Zorc led the way: When the relegation against Fortuna Köln in 1986 was about remaining in the Bundesliga and to a large extent also about the economic survival of the club, he initiated the turning point with his equalizer in the second leg, which ended in a furious 8-0 -Victory culminated in the decider.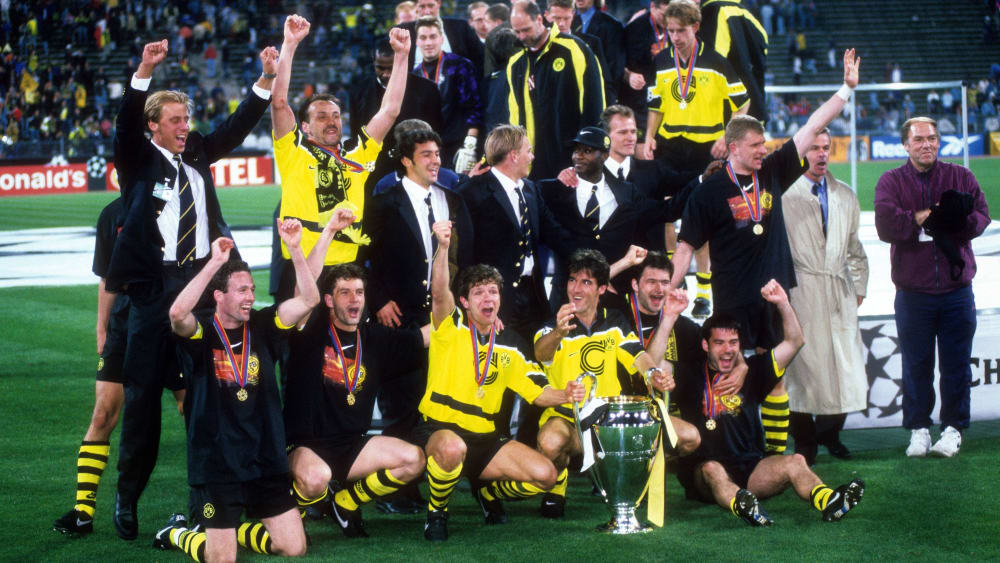 In good and in bad times
Times got better and Zorc was still in the thick of it. Promoted to captain in 1988, he celebrated victory in the DFB Cup a year later, was in the 1993 UEFA Cup final, lost to Juventus Turin, and experienced the big titles towards the end of his playing career.
He became German champion in 1995 and 1996 as his team's top scorer, won the Champions League and the World Cup in 1997 – even if he didn't play much anymore. He's important nonetheless, and this significance becomes particularly clear on the glorious evening in Munich, which in retrospect was always dominated by Karl-Heinz Riedle and Lars Ricken with their goals.
About a quarter of an hour before the final whistle, the shouts of the Dortmund fans in the Olympic Stadium can be heard, his nickname "Susi" echoes from the stands. It was Matthias Sammer, the captain of the starting XI, who convinced coach Ottmar Hitzfeld to use Zorc at least briefly so that he could receive the trophy, while Andreas Möller was substituted.
"A fine gesture from Matthias," Zorc will say 25 years later in the current kicker series on the premier class triumph, "and how the audience asked for my substitution touched me deeply. I'm grateful that I still have a few minutes on the stand and be a part of the team".
In Tokyo in the intercontinental duel against Cruzeiro Belo Horizonte in December of the same year, he proved his qualities to the big football world for the last time and scored the opening goal in a 2-0 win, after the season was over.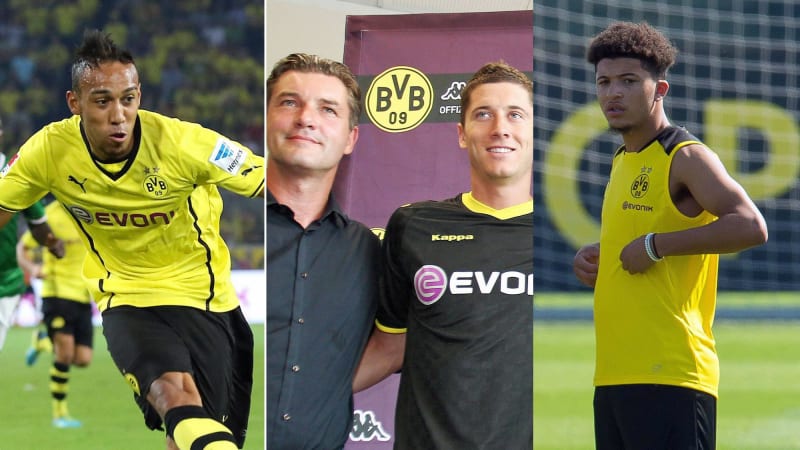 Rapid change in management
He doesn't allow himself a long break, on the contrary: Zorc joins the club's management directly. "The quick change was what I wanted, nobody pushed me into this position," he says in retrospect: "I've always had an interest in economics." One of his first transfers: Dede, still one of the biggest crowd favorites. Not a bad start for someone who says today: "In the first few years I was an apprentice."
https://www.weadartists.org/profile/doctor-strange-2-stream-deut-hd/profile
https://www.weadartists.org/profile/jujutsu-kaisen-0-stream-deut-hd/profile
https://www.weadartists.org/profile/dumbledores-geheimnisse-stream-deut-hd/profile
He had to learn quickly, because he and the club were faced with what was probably the worst crisis in the club's history, when BVB narrowly avoided bankruptcy in the mid-2000s and Zorc had to work with significantly less money from 2003. "Back then, we didn't have much to offer apart from our glorious past and a great stadium with 80,000 fans. Our primary task was to halve salary expenses within a year and a half," he said five years ago in kicker.
"Every expenditure that was over 500,000 euros had to be approved by a so-called steering committee. However, the claims had not been reduced by half. Although the economic conditions were not in place, we were still perceived as a Champions League club for a long time – which we weren't anymore. Controlling these expectations was a big problem at the time, along with acquiring new players."
Lucky move Jürgen Klopp
But from the ashes of the burned millions rose a black and yellow phoenix. "In retrospect, I think we managed it quite well, even if it took a few years for us to develop from a solid base back up," he reports: "It went step by step – also because we We did the right thing with Jürgen Klopp and found the right partner to help develop our sporting concept."
The stroke of luck Klopp, maybe Zorc the most important person. With the energetic trainer and skilful purchases, the way went steeply upwards again, reached the coronation in the championship title in 2011, the double in 2012, the Champions League final in 2013.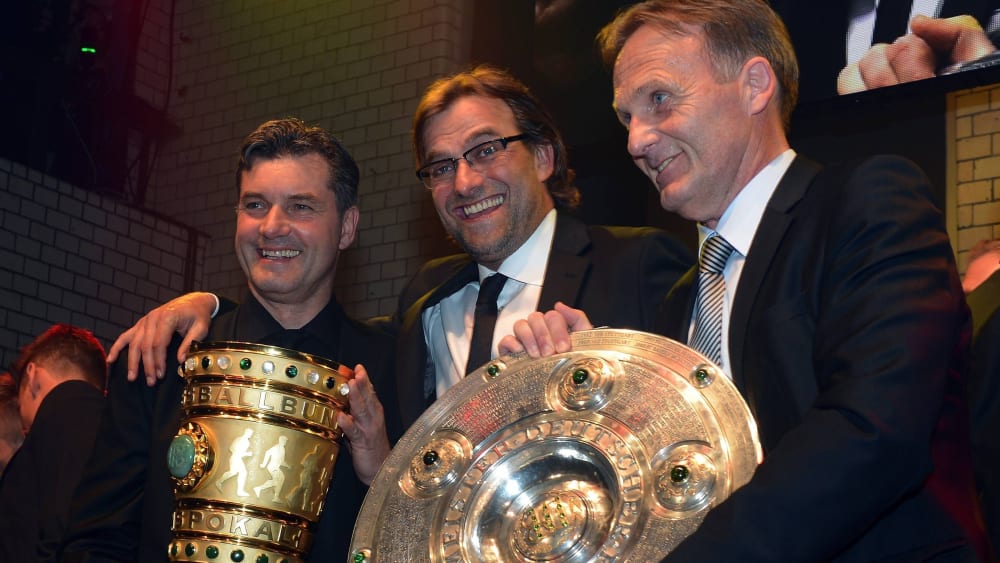 Successful trio: Michael Zorc, Jürgen Klopp and Hans-Joachim Watzke (from left).imago/Ulmer
It was formative years for everyone in the club, including Zorc, who was not undisputed for a while. "If you do the job as long as I do, then you just don't just have sunny days. You have to learn to deal with it properly. Both in the negative scenario and now in the positive," he says: "At least it has led to me for I've learned myself to only let criticism get to me up to a certain point and to try to still sleep soundly and keep a clear view. It's not always easy. But you can't allow yourself to be taken in completely. Otherwise you feel sometime like in the jungle and can't find a way out."
Externally, he conveyed, the sporting leadership almost always conveyed a coherent picture, controversial discussions remained internal, personal vanity and animosity were left behind. And Zorc, the Westphalian and the child of the Ruhr area, whose grandfather was once a miner at the Minister Stein colliery in Dortmund-Eving, remained the mostly dormant pole.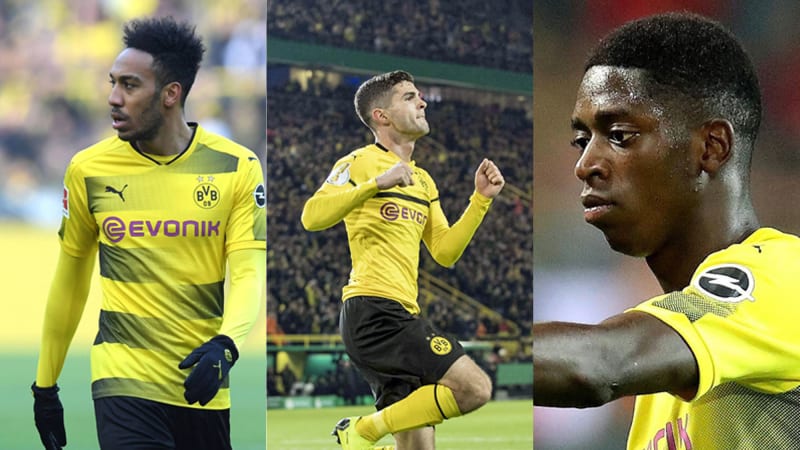 Loyal, level-headed, reliable, with a knack for good purchases and tough in negotiations when necessary – especially when it comes to a lot of money: In the course of his career he has turned over around 2 billion euros in transfers. "I'm not a romantic," he repeated over and over again, sentimentality is rather foreign to him. And yet Saturday, Borussia Dortmund's last game in charge, will be special.
He was formative for this club for 44 years, 20 years on the pitch, 24 in the office. Eight titles as a player, ten as an official – Borussia Dortmund won only five of its 23 titles without Michael Zorc. "He has the greatest career of all Borussia. 44 years with his club in his city – that's all you can do," honors Hans-Joachim Watzke in an interview with SID. It's the end of an era, of a life's work – and even that is an understatement.