Lee Ji Hoon's Drama 'Sponsor' Suddenly Postponed, Why?
The Broadcast Of The Drama 'Sponsor' Which Was Originally Scheduled For November 29 Was Suddenly Postponed. Curious Why? Check Out The Reasons And The Full Explanation In The News Below.
Shocking news came from the drama production team " Sponsor ". Because the drama, starring Lee Ji Hoon , suddenly postponed its broadcast three days before it was released.
On Friday (11/26), iHQ announced that "Sponsor" will be broadcast in February 2022. In addition, they are also lobbying MBN as the channel to broadcast this drama.
iHQ stated, After being recognized for its competitiveness and ability to generate buzz, 'Sponsor', which was originally scheduled to air on November 29, is currently in discussion to be broadcast simultaneously on MBN.
They continued, Therefore, we are discussing the possibility of airing the drama in February next year.
Meanwhile, "Sponsorship" is a drama about the dangerous relationship between two men and two women who are full of ambition. In order to satisfy their desires, they are willing to find sponsors and justify various ways.
Lee Ji Hoon will take on the role of Lee Sun Woo, an ambitious photographer who is determined to take revenge. On the other hand, Han Chae Young plays the CEO of a successful but greedy beauty brand named Han Chae Rin.
There is also a new star named Park Da Som, played by Ji Yi Soo . She has a husband named Hyung Seung Hoon ( Goo Ja Sung ), who is an aspiring model.
This drama itself was hit by various controversies before it aired. Because Lee Ji Hoon as the main character was involved in a conflict with the production team and the former writer of this drama.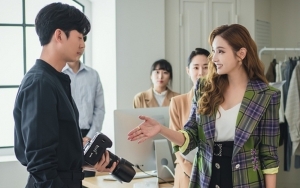 Lee Ji Hoon Reveals 3 Important Points In The Drama 'Sponsorship', Revenge Is One Of Them
IHQ Has Just Released Stills For The Upcoming Drama 'Sponsor'. Showing Lee Ji Hoon's Two Personal Sides, Here Are 3 Important Points Of His Character In The Drama.
Approaching its premiere, the drama " Sponsor " has just released an interesting trailer photo. This time the production team uploaded photos of Lee Ji Hoon as one of the main characters.
"Sponsorship" is a drama that tells the story of a dangerous romance between two men and two women. When they have nothing, they try to get what they want through "sponsors" to satisfy their greed and desire.
In this drama, Lee Ji Hoon plays the character Lee Sun Woo who has a burning ambition. Despite his warm appearance, Lee Sun Woo had a pure desire for revenge. But his plot of revenge leaves him entangled with three other characters who seek love, success and the safety of their children.
In the stills, Lee Ji Hoon describes Lee Sun Woo as a different person. One of the portraits shows his friendly personality with a warm smile. In another photo, Lee Sun Woo displays his true personality where he has a sharp and unwavering gaze.
When choosing keywords that represent his character in "Sponsorship", Lee Ji Hoon chose three things namely "revenge", "justification" and "love". According to him, revenge for a Lee Sun Woo is inevitable.
Revenge is a destiny that Lee Sun Woo cannot avoid.
However, Lee Sun Woo's revenge plan is not as smooth as imagined. One of the obstacles in the plan is love. Love is something that messes up his plans. Please watch this drama to see how love makes his heart change, he continued.
The actor also chose life doesn't go the way you want it to as the most memorable sentence. Lee Ji Hoon added, These lines represent the situation and feelings of everyone living in our current reality.
Meanwhile, the IHQ drama is scheduled to be released on November 29. "Sponsor" itself will air every Monday and Tuesday at 22:30 local time.