Le Sserafim: Pros Cons of HYBE's First Girlband Debut
Le Sserafim finally debuted on May 2 yesterday by releasing an EP titled "FEARLESS". As the first girl band made by HYBE, Le Sserafim has been receiving high anticipation since the promotion period which started in early April. Besides the interesting sneak peak concept, who wouldn't be interested in seeing the first girl group from the agency to reap international success with the presence of BTS?
After successfully debuting their second boy band, TXT (Tomorrow x Together) in 2019, now is the time for HYBE to spread its wings by debuting Le Sserafim.
An acronym for 'IM FEARLESS', Le Sserafim is also a reference to 'Le Seraphim', an angel with six wings. One more thing that made this girl group get a lot of attention was the joining of two former IZ * ONE idols, namely Miyawaki Sakura and Kim Chaewon. IZ*ONE is a successful girl group and has disbanded in 2021.
While the other four members are new faces in the kpop industry scene. Starting from Yunji, Kazuha, Kim Garam, and Eunchae as the youngest members who are still 16 years old.
Taking advantage of the agency's big name and the legacy of former IZ*ONE members who are still missed by many fans, does this make it easier for Le SSerafim to spread their wings in the worldwide K-pop industry?
Single "FEARLESS" with a Simple Pop Arrangement
Expectations for the debut of K-pop groups today are getting higher. No longer playing it safe as rookies, many of the newest groups are now daring to appear with maximum musical concepts to assert their dominance. In the kpop scene itself, now the trend is in favor of music with loud, loud, and bustling arrangements. Covered by up beat genres such as EDM, dance pop, and hip hop. Often listens to powerful compositions dominated by brass or drum instruments.
We can listen to this musical concept in several girl groups that have debuted earlier this year. Starting from IVE with 'Love Dive' to NMIXX with 'O.O' and 'Tank'.
Meanwhile, Le Sserafim chose to present a pop single with a simple and clean arrangement. "FEARLESS" is a pop dance track with a repetitive composition and a bit of sweet acceleration on the hook.
In "FEARLESS" the repetitive bass composition becomes the dominant instrument in creating the hooks. It doesn't give too much momentum and hype in the composition, acceleration is only applied a little from the bridge to the chorus. As a three-minute track, "FEARLESS" feels like the intro single for Le Sserafim. You could say playing it safe with a concept that feels generic. In this way, Le Sserafim will not be immediately labeled with a musical concept that is too specific for their expected comeback project in the future.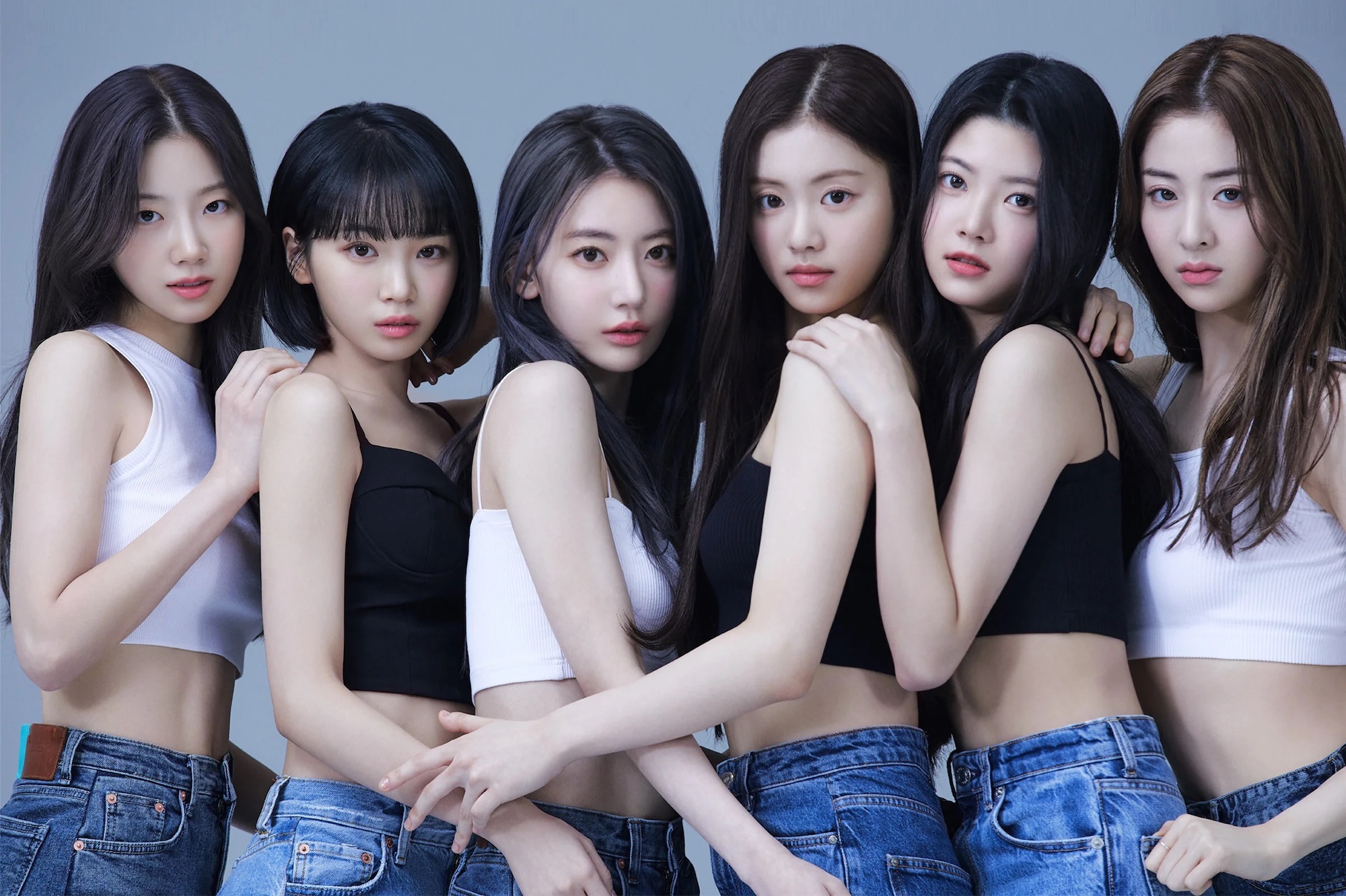 Pros and Cons Concept Sexy Runway Model Le Sserafim
Despite the rumors and negative opinions that tried to bring Le Sserafim down even before their debut, the sexy concept chosen for the girl group's debut project has drawn criticism. The choreography for "FEARLESS" contains moves that are too sexy given the fact that the group has members who are still underage. The presentation was actually quite surprising from an agency as big as HYBE. Applications of this kind of concept are usually found in girl groups from small agencies to attract instant attention.
The age gap between members can also be an obstacle when HYPE wants to determine the most appropriate concept. They also had the task of changing Sakura and Kim Chaewon's personas to be different from their image in IZ*ONE. For this one task, HYBE has managed to conjure them up to exude another charm from both of them in the new group.
On the other hand, the concept of the sexy runway model chosen as a whole is actually a creative branding model. For those who are familiar with model auditions in the professional world, simple and plain visuals are often used so as not to limit the potential of a model. A piece of white canvas that is ready to be explored with various concepts throughout their future career.
Choosing to include two former members from big girl groups did not make it easier for HYPE to launch Le Sserafim. They have the choice to rely on Sakura and Kim Chaewon as the backbone of the group, or start from scratch to equalize the level of the two idols with the other four rookies. It seems HYPE has to rebrand. We can see through "FEARLESS" the line distribution and overall composition are not in favor of certain members. Likewise, the choice of art concepts and costumes presented the six members as a unified group.
Overall, Le Sserafim's debut has been a difficult task for HYPE precisely because of the high expectations and big names surrounding them. Apart from gossipy news, Le Ssserafim has not been able to reap absolute success in this debut project. However, at leastyes, now Le Sserafim has debuted and is ready to be further developed with an art concept as well as a freer musical concept in the next comeback.