Kim Yoo Jung Prepares A Romantic Surprise For Ahn Hyo Seop On The Location Of 'Red Sky'
'Red Sky' Airs Every Monday – Tuesday Night On SBS. The Drama, Which Also Stars Gong Myung, Always Experiences An Increase In Ratings In Each Episode, Even Reaching 10.2 Percent.
" Red Sky " recently released a behind-the-scenes video that would be a shame to miss. Because the video shows the moment when Kim Yoo Jung and the staff prepared a romantic surprise for Ahn Hyo Seop .
Ahn Hyo Seop is known to celebrate his birthday when filming "Red Sky" on April 17. On the sidelines of the filming process, the staff suddenly did a prank interview to the handsome actor.
Read More…
Kate
Prisoners of the Ghostland
Guimoon: The Lightless Door
The Mad Women's Ball
The House of Gaunt
The staff asked Ahn Hyeo Seop to deliver a message to Hong Chun Gi (Kim Yoo Jung). But I see Hong Chun Gi every day, replied Ahn Hyo Seop. But the staff insisted on asking Ahn Hyo Seop to make a video message for his co-star.
Chun Gi, you've been having a hard time lately because of the shooting process right? I also felt it. Let's keep the spirit and create a good project, cheer up, said Ahn Hyo Seop in the end.
But what Ahn Hyo Seop didn't realize was that Kim Yoo Jung had actually walked up to him with a birthday cake. Just as the man finished his video message, Kim Yoo Jung immediately sang the birthday song.
Ahn Hyo Seop was shocked and immediately turned around. This is the first time I've had a surprise like this (birthday) on set, said Ahn Hyo Seop before blowing out the candles. The staff joked that the filming for the day had ended
Thank you, said Ahn Hyo Seop. The staff again joked that Ahn Hyo Seop and Kim Yoo Jung were careful to take care of the cake so that it could be used again for the next birthday. The main couple "Red Sky" was also seen taking pictures with the cake.
Meanwhile, "Red Sky" airs every Monday – Tuesday night on SBS. The drama, which also stars Gong Myung, always experiences an increase in ratings in each of its newest episodes, even reaching 10.2 percent. Don't miss watching it.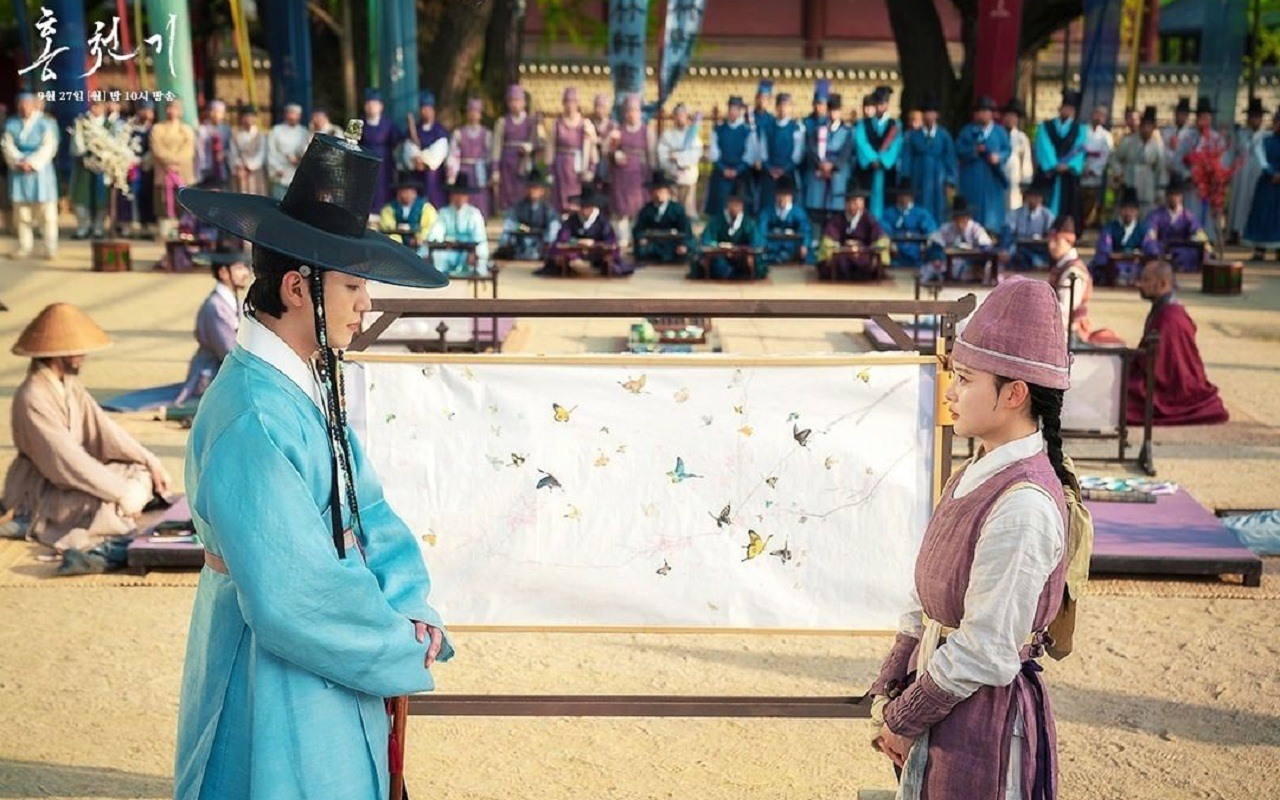 Filming For 'Red Sky' Kisses, Ahn Hyo Seop Makes Kim Yoo Jung Laugh Out Loud For Making This Hilarious Mistake
In The Behind-The-Scenes Video 'Red Sky' Which Was Released On Friday (17/9), Ahn Hyo Seop Successfully Made Kim Yoo Jung Laugh While Filming A Kiss Scene. Like What?
On Friday (17/9), SBS released a behind-the-scenes video of Ahn Hyo Seop and Kim Yoo Jung's kiss scene in the drama " Red Sky ". During filming, they showed great chemistry.
The video starts with Ahn Hyo Seop who is seen discussing the scene with the director. After receiving a brief direction, the two immediately sank into their characters and had a warm conversation.
Read More…
Old
Blue
Nightbooks
Ouchi Secret Agent
Go Seppuku Yourselves
Although filming the conversation went smoothly, Ahn Hyo Seop made a funny mistake when he started filming the kiss scene. Because he kept sinking down the slope until he failed to kiss Kim Yoo Jung and made him laugh out loud.
Because they failed on the first try, they went back to training and looking for the best position. During that moment, Ahn Hyo Seop was caught showing sweet attention by removing the flower petals that had fallen on Kim Yoo Jung's hair.
Thanks to careful practice and good cooperation, the couple managed to shoot a very romantic kiss scene. They also make sure each other feels comfortable so that the resulting acting looks natural.
After being released, this video was immediately filled with various comments by fans. Many of them praised Kim Yoo Jung and Ahn Hyo Seop's chemistry on set as follows:
They are a couple created by heaven to play this character. They are very funny and suitable when together, said a netter. They have amazing chemistry. I really like this drama, added the other netters.
Awww, I was very happy when I saw Ahn Hyo Seop take flower petals from Kim Yoo Jung's hair. They are a sweet couple, said another netter. I really like their chemistry because it looks so natural, said the other netters.
Meanwhile, the latest episode of "Red Sky" managed to break through the double-digit rating with a record of 10.2 percent. With these gains, the drama, which also stars Gong Myung , managed to dominate the Monday-Tuesday night broadcast slot.