Jung Ho Yeon Was Unsatisfied With His Acting Ability In 'Squid Game', This Figure Always Help Give Directions
Jung Ho Yeon's Acting Debut For The First Time In 'Squid Game' Was Certainly A Great Blessing, But During The Process He Cried And Thought His Acting Was Still Not Good.
Jumping into the world of acting for Jung Ho Yeon is not an easy thing to do considering he started his career as a model. Thanks to his acting debut in " Squid Game ", Jung Ho Yeon immediately gained the attention of the public for his extraordinary ability.
Acting as Kang Sae Byeok who is a North Korean defector with pickpocketing skills is considered a suitable character to be played by Jung Ho Yeon. Even according to director Hwang Dong Hyuk, Jung Ho Yeon was a gift from God because it was difficult for him to find a suitable role for Kang Sae Byeok's character.
However, in reality Jung Ho Yeon had cried because his work was considered unsatisfactory. In a recent interview attended by the supporting actors of the drama "Squid Game", Jung Ho Yeon revealed how he persevered to continue acting.
We walked at night after filming. And I cried, saying that my acting was not good enough. But they comforted me and said good things. They comforted me a lot, said Jung Ho Yeon who told the roles of Park Hae Soo and Kim Joo Ryoung during shooting is in progress.
When we have some concerns about acting, we talk about them. We laugh and then cry, Kim Joo RYoung also shared his thoughts on how the actors worked hard to feel about it.
According to Jung Ho Yeon, Lee Yoo Mi had helped him a lot with the scenes. She has more experience than me and she's a great actress. When I talked to her about my acting, she was worried. Yoo Mi was always very considerate so we talked about a lot of things since I trusted her. So I think everything went well. I'm still grateful to her. , said Jung Ho Yeon.
When Jung Ho Yeon get the question who his favorite character, he said the character played by Ji Yeon Lee Yoo-Mi . My favorite character is Ji Yeon. Our relationship is very good. It feels like we give each other a lot of support, said Jung Ho Yeon giving praise to his acting partner.
Lee Yoo Mi, who also attended the interview, also spoke up. He and Jung Ho Yeon even after finishing work often spend time together.
We are the same age and we have the same interests so we get along really well. When we were filming, we kept sharing our feelings for each other. After work, we would go out to find something and go to cafe to chat, said Lee Yoo Mi talking about her friendship with Jung Ho Yeon.
Sometimes a few times a day I actually text him, 'How are you?' We're still in touch. We didn't really expect this show to receive that kind of love and attention. So I try not to forget how grateful I am to everyone.
Meanwhile, Jung Ho Yeon will be a guest star on " You Quiz on the Block " which is a prestigious event in South Korea. He really gained his popularity through this drama.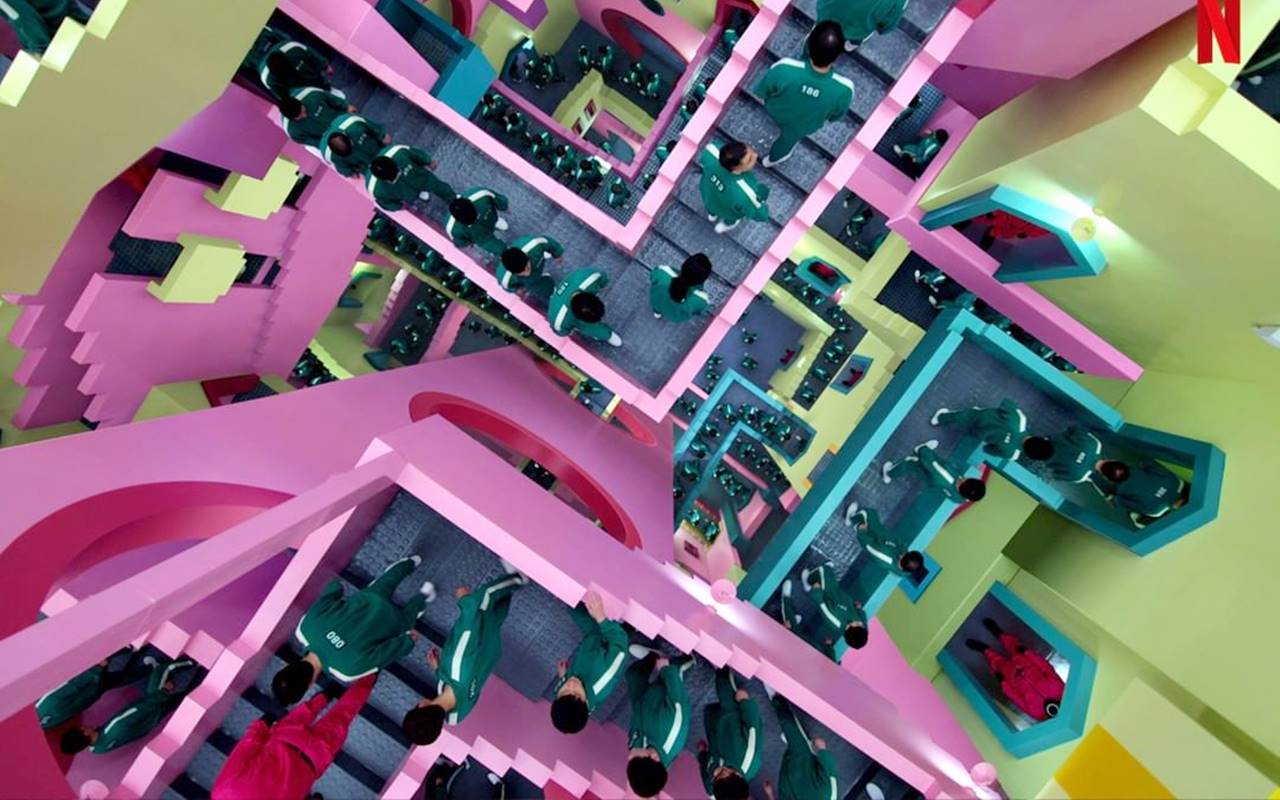 Labyrinth Ladder 'Squid Game' Not Only Makes The Audience Dizzy, The Production Team Admits To Experience Similar Things
The Setting Of Netflix's 'Squid Game', Which Is Also Considered Iconic, Makes Viewers Remember One Of Them, Such As The Labyrinthine Stairs That Cause Dizziness.
Netflix series " Squid Game " is the number one show on the platform which is viral in many countries. Besides the gruesome storyline, talented actors, and lessons to be learned from each scene, the filming location of the drama "Squid Game" is also a big attraction to know.
"Squid Game" which aired in mid-September suddenly went viral and was discussed everywhere. The thing that catches the attention of this drama is that it has a tense storyline related to defending each other's lives.
In the "Squid Game" scene, each match is placed in an unforgettable arena for the viewer. From huge playgrounds for adults to carnival-like areas with spooky glass bridges. The playground that should be fun is actually the opposite of the story in this drama.
There is even a set of backdrops in the form of a labyrinth of stairs that confuses viewers. Apart from being colorfully designed, the labyrinth also made the production team feel dizzy about the setting of the place.
The stairs become the main road that takes the "Squid Game" participants and staff in red to get to the game. To think that the labyrinth was created by an artist.
These stairs and labyrinths are heavily influenced by MC Escher's carvings. A large set that can accommodate more than 100 people, said Hwang Dong Hyuk, the writer and director of "Squid Game" who recently appeared in various media talking about his work that has been completed. been worked on for the past 13 years.
For director Hwang Dong Hyuk, even though the design is beautiful, it still has flaws. It is very difficult to pay attention to all the actors when he himself is disoriented or confused about the people in the set.