HYBE Announces The Strict Ban On Illegal Video Recording At The BTS Concert In LA
HYBE Also Prohibits The Use Of Mobile Phones To Record Concert Content. Cell Phones Are Still Allowed To Be Brought In As Needed, But Other Recording And Shooting Devices Are Not Allowed.
Two of four of the Los Angeles "PERMISSION TO DANCE DANCE ON STAGE" concerts have been completed by BTS ( Bangtan Boys ) at this time. Along with this, HYBE has issued an official notice to warn fans against illegal video recording for the remaining two days.
Since many concertgoers enjoy the show and record their favorite moments on their mobile phones, problems arise regarding concertgoers recording shows in HD. As many know, high-quality filming equipment such as DSLR cameras are often prohibited from concerts. This is because HD content will usually be officially released by the agency.
HYBE also prohibits the use of mobile phones to record concert content. Cell phones are still allowed to be brought in as needed, but other recording and shooting devices are not allowed. On Wednesday (1/12), HYBE released an official notification issued through Weverse.
Hello. This is BigHit Music. During the concert 'BTS PERMISSION TO DANCE ON STAGE – LA', there has been an act that violates the artist's portrait and copyright rights.
The agency emphasized that spectators are prohibited from bringing any type of video recording device into the stadium. This includes the recorders brought by fansite masters , who recently drew complaints from other fans for their bad attitude throughout the concert.
"Other than cell phones, recording devices or other films are strictly prohibited from being brought on site. In cases of violation of these rules, including filming on your mobile phone, you may be asked to delete the recording and forced to leave. Therefore, we ask for the cooperation of all parties. In the future, we will do our best to protect the portraits and copyrights of our artists. Thank you," concluded HYBE.
It is important to respect the rules of the concert while enjoying it. With two more days of concerts remaining on December 1 and 2, I hope fans can work together.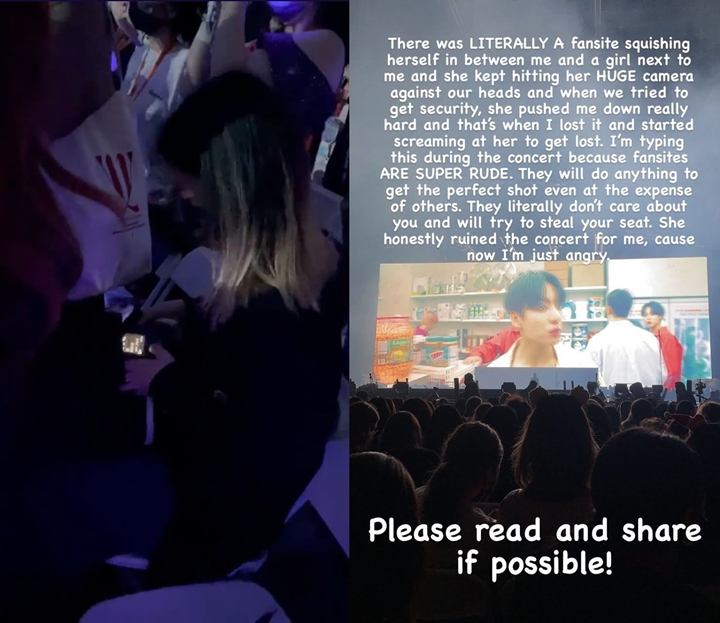 More Disquieting, Rough Behavior Of BTS Fansites At The LA Concert Makes ARMY Upset
An ARMY Named Ashlee Revealed A Terrible Experience With A Fansite Photographer That Occurred During BTS's Offline Concert In LA Recently.
BTS ( Bangtan Boys ) has held their first two concerts "PERMISSION TO DANCE ON STAGE" at SoFi Stadium in Los Angeles, California. While the members put on a maximum performance, a number of fans were annoyed with the fansite's behavior.
For the tens of thousands of ARMYs in attendance, it was a dream come true to finally see BTS perform live after two years. But there are some fans who have a bad experience.
While trying to enjoy the show, many ARMYs run into sasaengs and fansites. Instead of enjoying the concert, the fansite photographer managed to sneak in a professional camera with a lens to photograph the members during their performance.
An ARMY named Ashlee (@crispykooky on Twitter and Instagram) revealed a terrible experience with a fansite photographer. During the concert, he shared on Instagram Stories what happened to him at that time.
Ashlee also posted a thread on Twitter detailing her experience. It started when a fansite photographer walked into the VIP section. While sitting there, their camera kept hitting their heads and other people while trying to get the perfect shot.
Ashlee revealed that they pushed her hard when reprimanded. The fansite photographer constantly attacked Ashlee, and eventually she was even pushed down. As a result, he hit his own chair. Ashlee tried to call security. Unfortunately, that's when the fansite photographer decided to run away.
Ashlee then added that there was also a second fansite, a friend who attacked her. The two of them snuck into the VIP section, taking someone else's seat. Ashlee clarified that apart from the fansites who were there, others were victims like her.