Go Hyun Jung Reveals The Reasons For Agreeing To Star In 'Reflection Of You' Without Thinking, What?
'Reflection Of You' Will Soon Air Next October. Go Hyun Jung Revealed His Reason For Wanting To Star In The Drama Without Thinking.
My new JTBC released a short video interview of the cast of " Reflection of You " to greet viewers. The drama, which will be Go Hyun Jung's comeback after two years, will begin broadcasting next October.
"Reflection of You" itself takes two points of view, namely that of Jung Hee Joo (Go Hyun Jung) and Goo Hae Won ([c=Shin Hyun Bin[) as the center of the storyline. Before becoming a successful painter and essayist, Jung Hee Joo went through a tough youth. Even though his life seems worthy of being an example he feels he has wasted time without meaning.
At his lowest moment, Jung Hee Joo meets Goo Hae Won who looks like him. Both poor in their youth but still shining.
In the video released on Tuesday (28/9), Go Hyun Jung talked about his character. However, when I met 'someone', I experienced many changes and conflicts in life," he explained.
On the other hand, Shin Hyun Bin also shared his conflicted character with Go Hyun Jung's role. "He was a poor man but had big dreams and was full of hope. But because of 'some events', he has become a very different person in living his life," he said.
When asked about his reason for wanting to star in "Reflection of You", Go Hyun Jung has a quite unique story. Considering that he hasn't acted on the small screen in a long time, what makes him excited to immediately return to acting as the main character is also interesting to know.
Read More and Follow :
No Time to Die
007
Go Hyun Jung explained, "I just opened the script for the first episode and saw two scenes, then immediately thought, 'I have to do it unconditionally!' I was worried about whether I could play the role of a couple well, but after meeting and talking little by little, I felt comfortable and happy. My heart warmed even more."
Meanwhile, "Reflection of You" can be watched on October 13. This drama will air every Wednesday and Thursday at 22:30 local time.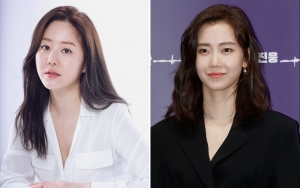 Go Hyun Jung And Shin Hyun Bin Cs Mysterious In The Poster, 'Reflection Of You' Reveals Character Details
JTBC Released A Poster In Which The Characters Of 'Reflection Of You' Are Revealed A Little Bit. Go Hyun Jung And Shin Hyun Bin Et Al Look Mysterious And Keep Something Hidden
" Reflection of You " has just released individual posters for each of the main characters along with details. This upcoming JTBC drama brings together the acting of senior actresses Go Hyun Jung and Shin Hyun Bin who are on the rise due to " Hospital Playlist ".
This drama will follow the story of Jung Hee Joo (Go Hyun Jung) who grew up in poverty but now lives a successful life. Even his family is happy and rich in wealth. Even though his life journey is inspiring, Jung Hee Joo still has an empty feeling about the passage of time.
On the other hand, Goo Hae Won (Shin Hyun Bin) grew up with a beautiful youth. However, he is very hurt because of his brief encounter with Jung Hee Joo and it gets worse as time goes on. "Reflection of You" will tell the story of infidelity, betrayal, corruption, and revenge that follows their meeting.
In the newly released poster on JTBC's official SNS, the four main actors pose in a black and white poster with splashes of color adding to the mysterious impression. The first poster belongs to Jung Hee Joo where he turns his head slightly with a nervous glint in his eyes. Jung Hee Joo is a successful painter and essayist, but her expression is unreadable.
Next, the second poster shows Goo Hae Woon looking ahead with empty eyes. He exudes a mysterious aura, his struggles as a human figure with a brilliant youth but falling out of control is also interesting to watch. In the poster there is a question that reads, "Do you recognize me?"
Then there is Seo Woo Jae ( Kim Jae Young ) who looks calm but anxious glancing in a direction on the poster. The embedded writing hints at a secret past. "Are we not happy right now?" the sound of the text.
Lastly, Ahn Hyun Sung ( Choi Won Young ) as Jung Hee Joo's caring husband who comes from a rich family. In the poster he is staring at something a little gloomy and his brows furrowed as if he is sad. Indicating that he has turned a blind eye to certain truths, the poster reads, "Just tell me a lie."
Meanwhile, "Reflection of You" will premiere on October 13. This drama can later be watched every Wednesday and Thursday at 22.30.