FiveThirtyEight European Club Global Ranking: MU Out of Top 20, Juventus Sink
Manchester United is out of the top 20 of the global ranking of football clubs according to FiveThirtyEight . Juventus who are in a slump, are not in the top 30 list.
Despite winning their last two games after being humiliated in the Manchester derby, Erik ten Hag's side are ranked 22nd.
FiveThirtyEight ranks global power by Opta and ESPN.
But it would be a big surprise to know that RB Salzburg and Brighton are both ranked higher than Manchester United .
Brighton complete the top 20 clubs despite recently dropping to seventh in the Premier League. Newcastle United and Chelsea all rose above them.
(Champion Manchester City) Erling Haaland. In 8 matches of the 2022/2023 Premier League, the new Manchester City striker from Norway, aged 22, has scored 3 hat-tricks, namely in the 4th week of a 4-2 win over his visitors Crystal Palace (27/8/2022), the 4th week. -5 in a 6-0 win over visitors Nottingham Forest (31/8/2022) and the last in week 9 when a 6-3 win over Manchester United at the Etihad Stadium (2/10/2022). In total he has scored 14 goals and 3 assists.
Bundesliga champions Bayern Munich are in second place, while Manchester City are at the top of the power rankings to be crowned the best team in the world.
An excellent performance from Erling Haaland has helped City rise to this position.
Pep Guardiola's side have not lost a game in the Premier League and have already progressed to the knockout stages of the Champions League.
(Big 15) Alphonso Davies joined Bayern Munich in 2019 from Vancouver. The Canadian defender scored his first goal at the age of 18 years 5 months 15 days in a 6-0 win over Frankfurt. Davies managed to transform into one of the best defenders in the world today.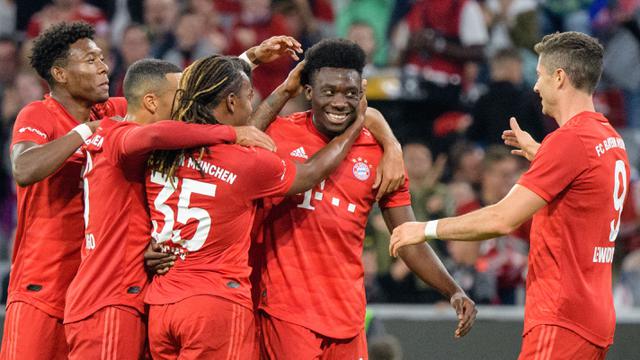 1. Man City
2. Bayern Munich
3. Liverpool
4. PSG
5. Real Madrid
6. Barcelona
7. Chelsea
8. Arsenal
9. Naples
10. Ajax
11. Tottenham Hotspur
12. Borussia Dortmund
13. Atlético Madrid
14. FC Porto
15. RB Leipzig
Top 30
16. Benfica
17. Inter Milan
18. Villarreal
19. AC Milan
20. Brighton
21. RB Salzburg
22. Manchester United
23. Newcastle United
24. Athletic Bilbao
25. Zenit
26. PSV
27. Real Sociedad
28. Marseille
29. Bayer Leverkusen
30. AS Roma