DP Review, The Dark Side of the Creepy Korean Military Service
If you feel dazzled by a dashing man in a charismatic army uniform like Yoo Si Jin (Song Joong Ki) in Descendants of The Sun or Ri Jeong Hyeok (Hyun Bin) in Crash Landing on You , maybe this is the right time to watch DP . Drama from Netflix which stands for Deserter Pursuit .
Drama DP is adapted from the webtoon of the same title. This six-episode drama tells the story of a conscripted soldier named Ahn Jun Ho (Jung Hae In) who is assigned as a military policeman. The strong and quiet Ahn Jun Ho manages to attract the attention of his superior, sergeant Park Beom Gu (Kim Sung Kyun). Park Beom Gu transferred Ahn Jun Ho to join his DP unit. His job is to catch deserted or runaway conscripts.
These various reasons for running away are what the DP is trying to bring up. Four out of six cases of soldiers running away were motivated by violence.
South Korea itself is known as one of the countries in the world that requires its citizens who have met the requirements to participate in military service for a specified time.
Read More…
BanG Dream! Episode of Roselia: Promise
After We Fell
My Boss Is A Serial Killer
Candyman
The Painter and the Thief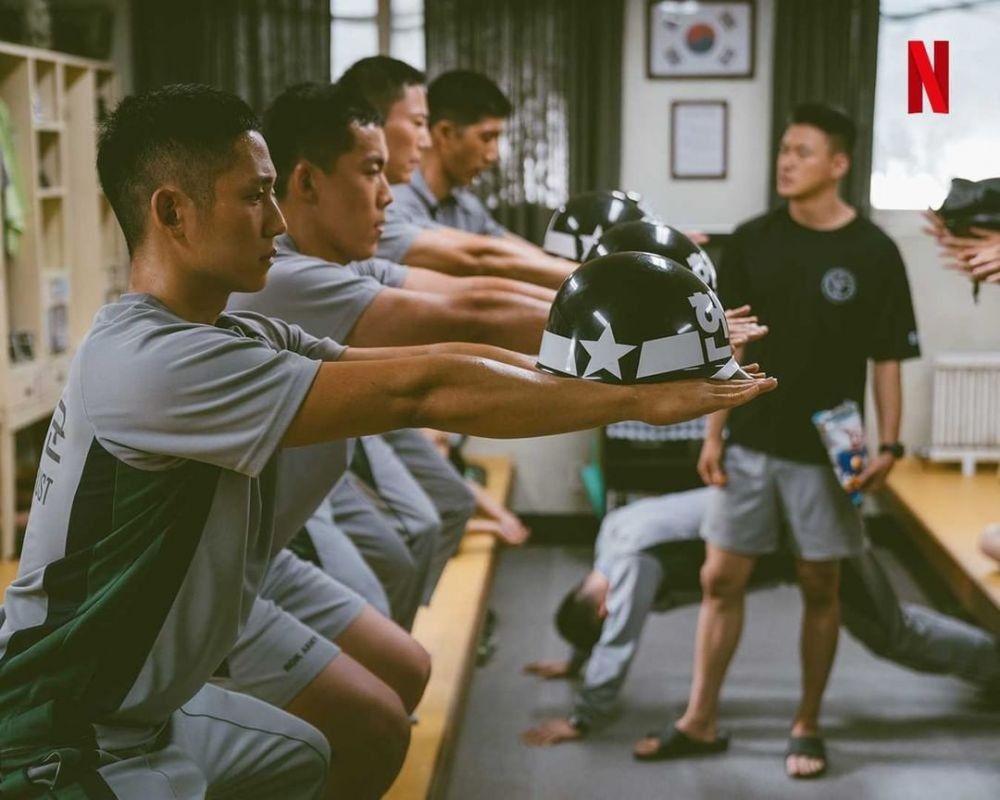 1. Dare to raise the dark side of the military such as violence and small salary
DP . realistically describe various sensitive issues about the military. There are issues of seniority, violence, and the small salaries received by conscripts.
As many as four out of six cases of deserted soldiers were verbally abused or physically abused. The case of Shin Woo Suk (Park Jung Woo), for example. He was physically tortured and chose to flee the camp because he could not stand it.
The issue of a low salary is implicitly also revealed in the DP . Every month, conscripts are known to get a salary. However, the salary is not enough. At least, this is what happened to Heo Chi Do (Choi Joon Young). Heo Chi Do is a model soldier who ran away because he had to find extra money. During his military service, he himself was willing to undergo dangerous training even though his body was injured in order to get a bonus.
2. Jung Hae In and Koo Gyo Hwan's characters balance each other and attract attention
The selection of actors Jung Hae In and Koo Gyo Hwan as the main characters was the right choice.
Jung Hae In, who has regularly acted in the melodrama genre for the past few years, has shown his versatility as an actor. Through eyes and facial expressions, viewers can feel the annoyance that An Jun Ho shows to his parents. An Jun Ho himself grew up watching his father abuse his mother. An Jun Ho became one of the juniors who refused to be played by his senior, Hwang Jang Soo (Shin Seung Hoo), when he was in the military.
An Jun Ho's rigid attitude is balanced by the humor of Han Ho Yeol (Koo Gyo Hwan). Han Ho Yeol is the leader of the DP team as well as breaking the atmosphere so that the audience is not too tense when watching the scene where Han Ho Yeol and An Jun Ho are looking for and bringing deserted soldiers. Starting from facial expressions and dialogue, it seems that no one can play Han Ho Yeol other than Koo Gyo Hwan.
Read More…
Run
You Are Not Normal, Either!
Tokyo Revengers
Beyond the Infinite Two Minutes
The Green Knight
3. Good character development
The figures in DP . experienced astounding character development. It seems, the audience will agree that no one expected that the character Cho Suk Bong (Cho Hyun Chul) would dominate the peak of the conflict in the last two episodes. Cho Suk Bong was known as Buddha for his kindness before his enlistment. Due to the violence committed by Hwang Jang Soo, Cho Suk Bong becomes vindictive.
Cho Suk Bong's best friend, Kim Ru Ri (Moon Sang Hoon), who is also kind, also shoots his gun at the senior who bullied him. Kim Ru Ri's character only appeared twice in episodes 5 and 6.
An Jun Ho is also developing well. An Jun Ho only needed one episode to adapt as a DP member
Likewise Han Ho Yeol. Behind his easy going nature , the pain and fear of being stabbed by sharp objects still haunts him. There is a scene where Han Ho Yeol is pointed at a sharp weapon, his face suddenly changes to a traumatized one.
4. The cameos that stole the show
Go Kyung Pyo and a number of other actors made cameos in DP . play the character well.
Go Kyung Pyo plays Park Sung Woo, the interim leader of the DP team. There is also Park Jung Woo who plays Shin Woo Suk, a deserted soldier who commits suicide. Shin Woo Suk's death gives significance to An Jun Ho's overall character development.
There is also Kim Dong Young who plays Choi Jun Mok, a deserted soldier who has problems with sleeping patterns. There is Lee Jun Young who plays Jung Hyeon Min, a deserted soldier who likes to spend money and is mean to his father and girlfriend. There is also Choi Joon Young who plays Heo Chi Do, a deserted soldier who has financial problems.