Doyoung, Johnny And NCT's Mark Apologize After Controversy Over Singing 'Earthquake' During The Jeju Earthquake
NCT Was Criticized For Singing The Song 'Earthquake' When They Heard The Earthquake Alarm Go Off During Their Live Broadcast. In The End, The Members Concerned Conveyed Their Apologies.
During the broadcast, unexpectedly an emergency disaster text message notification alarm started sounding on the mobile phone due to an earthquake that occurred at sea near Seogwipo, Jeju Island. After checking the text messages, the members said, "Jeju Island? Was it an earthquake?".
Reporting from Kbizoom , Doyoung then mentioned the song "Earthquake" which was on their album. Mark then responded by singing a verse of the song, and Johnny even did a dance move. The other members around hurriedly stopped them, but the scene had already been shown on the live broadcast.
Due to the attitude shown by Doyoung, Mark and Johnny on the Live broadcast, netizens began to criticize. Netizens criticized the careless actions of NCT members when the damage from the earthquake was still unknown.
Until in the end the three NCT members conveyed their apologies on Instagram. Doyoung, Johnny and Mark each wrote their apologies on Instagram Stories.
" I want to apologize to those who must have been hurt and felt uncomfortable by my rash comments. I have no excuses because this was definitely my fault and my fault. Doyoung in Korean.
'm very sorry. I want to apologize to everyone who feels uncomfortable because of my actions ," wrote Johnny.
" I want to apologize for what I did on the live comeback today. I'm very sorry to have demonstrated careless and reckless behavior without considering the situation properly. I will reflect on myself deeply and promised never to do it again ," said Mark
At 5:19 p.m. the same day, an earthquake measuring 4.9 on the Richter scale rocked Seogwipo-si, Jeju Island, 32km to the southwest. It was reported that some local residents felt the earth shaking. As of 18:00, no damage to human life was reported.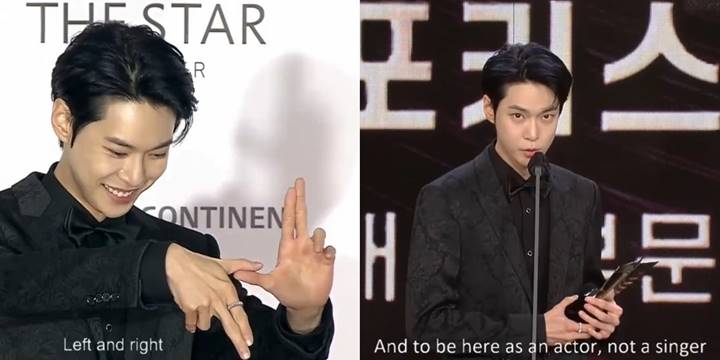 AAA 2021: NCT's Doyoung Appears Dashing As An Actor, Receives Auto Award Makes Proud
The Asia Artist Awards 2021 Has Been Held On December 2, Where Celebrities Attended The Event Accompanied By Stunning Appearances, Including NCT's Doyoung Who Came In A Black Suit.
The prestigious Asia Artist Awards 2021, which was held on Thursday (2/12), continues to be in the spotlight because artists come to the event. Like the presence of NCT's Doyoung who recently came into the spotlight because he seemed to come alone at the red carpet session.
It was revealed that Doyoung attended the prestigious event as an actor. Doyoung became one of the celebrities who were nominated in the "Focus Awards (Actors)" category where he came out as the winner.
At the event, Doyoung was seen wearing a black suit and he got a call from his MC as an actor. Even though he didn't walk together with the other NCT members on the Red Carpet, Doyoung still gave his group's signature signature greeting in front of the public.
As is known, Doyoung has made his debut as an actor through the drama " Cafe Midnight season 3: The Curious Stalker ". In the drama, Doyoung plays the character Son Ji Woo. Son Ji Woo is a figure who appears so perfect, both in terms of academics, appearance, and personality. He begins to fall in love with a school friend who is preparing to move to Seoul because he will undergo a trainee period as an idol.
So don't be surprised if Doyoung has won the "Focus Awards" award. Previously, Doyoung had won the Best Male Actor award at the Seoul Web Fest 2021 awards ceremony in mid-August.
This proves that he is increasingly honed in his new profession. Doyoung also played Axel von Fersen in the musical "Marie Antoinette" which became the journey of this idol's career as an actor.
Meanwhile, seeing Doyoung walking in the middle of the Red Carpet made fans proud of his achievements. Many admire how Doyoung looks dignified and fits perfectly as an actor.
"Doyoung makes me proud because of his achievements there, I want to cry seeing him," wrote a fan comment. He's really that cute. Hope you win!" write other fan comments.