Dani Alves: "The only laziness that gives me is that I come here in white and I don't like that"
The Brazilian is the figure of Pumas, Barcelona's rival this Sunday at the Joan Gamper
Dani Alves is the great figure of the Mexican Pumas , rival of Xavi 's Barcelona in the Joan Gamper trophy that takes place this Sunday at the Spotify Camp Nou . The Brazilian has been very excited about his prompt return to what has been his home, in two stages, and has once again shown his great sense of humour, his leadership, his Barcelona spirit and mischief of the.
"I am very grateful for the trust, the opportunity they are giving me to be part of this club, very special in Mexico. Being able to build a history together with them is going to be a great challenge. The only laziness that gives me is that I come here from white and I don't like that, but it belongs to the Pumas", commented Dani Alves , always astute, to the media after visiting the Spotify Camp Nou with his teammates .
The professional veteran has also referred to the illusion generated by returning to what has been, in two stages, his home: "It is strange to return with another shirt that is not the Barcelona one, but football is beautiful because it takes care of the people who dedicate time to it, who respect it. Not even in the best scripts would I have thought to return here so quickly. I only had a chance to say hello, but not until later. Football is giving me that opportunity to hug the people I love again". "It will be a very special moment because always stepping on the Camp Nou, returning to Barcelona, ​​is something unique for me. I love this club too much, I love these colors too much. I hope it's a nice day. I would never celebrate a goal here. In the end, for us, the Gamper is the date of the culé. That's why I'm here too, because it's the date for the culé", he insisted.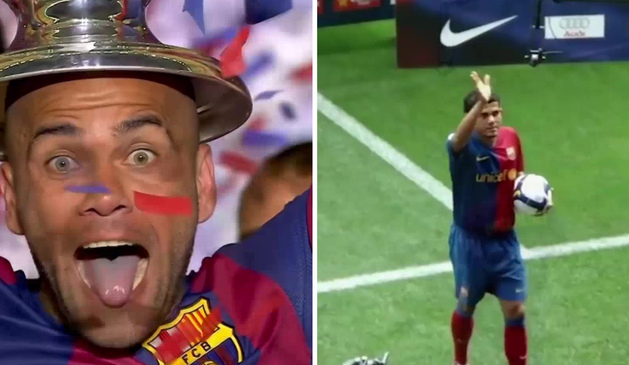 In any case, Alves would have liked to leave Barcelona in another way: "I just said that I would like it to be done in another way. In the end, we have a history together and we shouldn't go too far. been going around too much when I made it very, very clear that I was delighted to return to Barça ".
Duel with Messi
In relation to the PSG attacker being able to exceed the number of titles he holds, he has been happy about the fight. "I have made it clear. Many times it is not that you play badly, but that they play better than you. If Messi is going to pass me, there is nothing new. It would be novelty if another passed me. Nothing to talk about. I am not going to put it easy, but if he happens to me, it's Messi ", he commented.
The former Sevilla player also wanted to send a message to his Pumas teammates, who hope they enjoy the Gamper . "I sincerely tell you to enjoy this unique moment in your lives. Coming here, not only for Pumas, for any other team, is very, very complicated. Playing against Barça here is very difficult and you have to enjoy that beautiful day. they will not have many more opportunities to play at the Camp Nouold, then it will be remodeled and they may come back, but it is a little more difficult for them to live that experience again. So you have to enjoy and have fun. We must try to put what we also have as arguments, but more than anything it is a day that we were invited to the culé party, so we have to make that day special for us too, "he asserted.