Bucin Type, Ahn Bo Hyun Admits He Will Do Everything For His Girlfriend
When Asked About His Personality When He Was In Love, Ahn Bo Hyun Replied That In Front Of Someone He Likes, He Tends To Keep My Words And Keep His Distance.
Actor Ahn Bo Hyun answered his solo magazine photo shoot interview. On Friday (22/10), First Look magazine released a solo photo shoot of Ahn Bo-hyun, who is currently on the rise thanks to the dramas " Yumi's Cell " and " My Name " and here, he talks about his romantic relationship.
When asked about Gu Woong's charms in "Yumi's Cell", Ahn Bo Hyun expressed his affection for the character, saying, "He is sincere and honest, eccentric and innocent. Gu Woong in the drama is a character who is loyal to his emotions. He is straightforward, but not want to hurt other people. I like the way he has a clear view of himself."
When asked about his personality when he was in love, Ahn Bo Hyun replied, "In front of someone I like, I tend to keep my words and keep my distance. If I like someone, I want to share the joys, sorrows, hardships and build a good relationship. secret-free. I'm the kind of person who does everything for my boyfriend and is nice to him.
The actor explained, "I just wanted to express a part of his life without trying to force it. I was immersed in the character while thinking about the memories of living alone for a long time, the hardships and the good things at that time."
In addition, Ahn Bo Hyun smilingly shared, "I've become lazier than before. I often separate trash, wash clothes and wash dishes at once. I used to always clean up right away and there was no 'later' word, but now things have changed. . Maybe this is tiring for me. Come to think of it, it's more efficient now."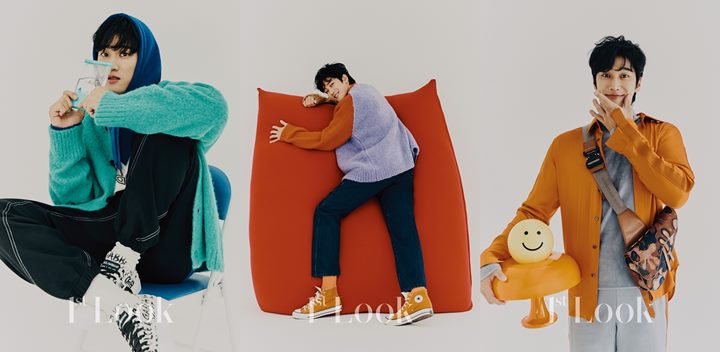 Ahn Bo Hyun Discusses Friendship With Park Seo Joon And Admits Nam Gyu Ri's Charm
Ahn Bo Hyun Also Revealed That He Was Fascinated By His 'Kairos' Co-Star, Nam Gyu Ri. Also Talked About His Friendship With His 'Itaewon Class' Co-Star, Park Seo Joon.
In a recent interview, Ahn Bo Hyun talked about his co-stars in " Itaewon Class " and " Kairos ". He talked about his friendship with Park Seo Joon and Nam Gyu Ri's charms .
Ahn Bo Hyun also revealed that he was fascinated by his "Kairos" co-star, Nam Gyu Ri. The actress acts as the object of her character's devotion in the drama as well as in real life.
"Before I met Nam Gyu Ri, I had a definite image of him in my mind as 'Nam Gyu Ri SeeYa'," said the actor. "But after meeting her in real life and working with her, I feel that she is an actress who really has a lot of depth."
"He is also someone with a mysterious charm," he continued. "So I think in real life too, he's the ideal person to fall in one-sided love with."
Ahn Bo Hyun also talked about his close friendship with his "Itaewon Class" co-star Park Seo Joon. Here, Ahn Bo Hyun praises Park Seo Joon's acting skills.
"He is a friend whom I have to learn a lot from," said Ahn Bo Hyun. "Even though we're the same age, he started acting before me, so he's a really great friend doing various genres and very diverse roles. So I've always thought of him as someone from whom I have a lot to learn. I'm glad we were able to act in 'Itaewon Class' ' together, and he's a friend who's been a source of positive motivation for me."
It became an opportunity for me to be known by many people. It also means a lot because people see Jang Geun Won's character as not just a pure villain. , but with sympathy and compassion, and I am very grateful for that."