BLACKPINK Jisoo Reportedly Dating Footballer Son Heung Min, Is This The Evidence?
Recently, soccer player Son Heung Min was rumored to be in a romantic relationship with Jisoo BLACKPINK ( Black Pink ). Several photos that are claimed to be proof that the two are dating have been posted on online communities.
Son Heung Min returned to Korea via Incheon International Airport on the afternoon of October 5. The reason is, he is scheduled to play against Syria in the third round of the Qatar 2022 Asia World Cup qualifiers.
On the same day, Jisoo attended the Dior Show at Paris Fashion Week in Paris, France and then returned to Korea.
Jisoo and Son Heung Min's dating news is currently the focus of attention. Even so, there has been no confirmation from both parties and the photos that are claimed to be evidence are also not enough to prove that Jisoo is dating Song Heung Min.
Previously in 2019, Jisoo made Korean netizens and media excited when she suddenly posted a photo of watching a football match at Tottenham in London, England. It is worth mentioning that according to a series of Korean newspapers, the beautiful idol specially came to England just to cheer on Son Heung Min.
In other news, Jisoo went around meeting fashion designers from the Dior brand during her visit to Paris. In addition, Jisoo also had the opportunity to explore the vast archives.
Then, Jisoo was also able to watch live studio previews of Maria Grazia Chiuri's own upcoming collection and Peter Philips' Dior Beauty makeup tutorial. "When I see the models wearing clothes of various colors, I feel like I'm in a video game," said Jisoo who was amazed by the runway show.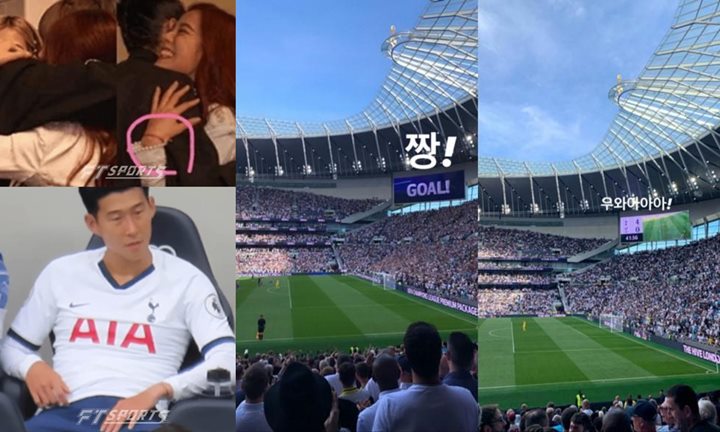 Agency Opens Voice Responding To Dating Rumors Of BLACKPINK Jisoo With Footballer Son Heung Min
The Agency Admits That Rumors Of This Kind Have Spread Outside South Korea, Where It Is Feared That This Could Cause Harm To Jisoo.
Dating rumors between BLACKPINK ( Black Pink ) personnel Jisoo and soccer star Son Heung Min that have surfaced recently have shocked fans. The agency that oversees Jisoo, YG Entertainment, also opened a voice in response to this.
YG Entertainment through an official statement firmly denied the dating rumors of the two. On Sunday (10/10), YG Entertainment released an official statement in response to growing speculation. The agency said that they had been monitoring the situation as it developed.
We definitively state that all dating rumors regarding BLACKPINK's Jisoo are untrue, the statement said. Our agency has been monitoring the situation closely.
The agency admits that rumors of this kind have spread outside South Korea, where it is feared that this could cause harm to Jisoo herself. Therefore, YG hopes that with the issuance of this statement, it can provide clarification to straighten out these untrue issues.
However, because the rumors have even spread internationally, we are concerned that the artist may suffer losses due to the situation, the agency continued. So we want to clarify the misinformation.
Furthermore, YG advised fans not to be easily swayed by this kind of irresponsible speculation. We ask you to refrain from baseless speculation, YG said.
It is known, Jisoo and Son Heung Min were first rumored to be dating in September 2019. At that time, Jisoo went to watch one of the soccer players' matches in England. A number of observers also saw them wearing matching bracelets. Rumors linking the two recently resurfaced after Jisoo and Son Heung Min flew to Korea from France on the same day.
In An Interview, Son Heung Min Stated That What He Thought Was His Couple Bracelet Was The Friendship Bracelet He Shared With His Teammates.
Recently, Jisoo BLACKPINK ( Black Pink ) and soccer player Son Heung Min were once again rumored to be in a relationship. Responding to these rumors, SBS News also responded by releasing a report to refute it.
There was a total of three "evidence" that netizens found to support the speculation that Jisoo and Son Heung Min were dating. Photos of the couple's belongings to the schedule that collided as if they were deliberately looking for time to meet were claimed as "proof" of their relationship.
Netizens explained that Son Heung Min and Jisoo returned to South Korea from France on the same day, and Jisoo was found watching Son Heung Min's match in England in the past. In addition, netizens claim that these two people are wearing similar bracelets.
It has been revealed that he had left France to come to South Korea instead of England.
Jisoo also returned to South Korea on the same day after attending the Dior Show Paris Fashion Week in Paris, France. Since the two of them returned to South Korea on October 5, speculations about their relationship were getting stronger.
After that, the two people were seen wearing similar bracelets, which caused dating rumors. This is because Son Heung Min was seen kissing the bracelet in celebration of the goal and people speculated that the footballer was showing his affection for his girlfriend.