ARMY Flooded James Corden's Instagram With Blasphemy Included In Condolence Posts
BTS Fans Are Bombarding Their Social Media Accounts With Critical Comments. However, Many People Defended James Corden, Claiming That It Was All A Joke With No Ill Will, And That Was Also His Style.
Recently, the whole world mourned the death of the husband of famous designer Tom Ford, Richard Buckley, ending their 35 year relationship. However, under James Corden's post with a photo of Richard Buckley, a large number of BTS ( Bangtan Boys ) fans took over the comments section to protest against the male host.
In particular, a few days ago, James Corden came under fire for his opening remarks on " The Late Late Show With James Corden ". Therefore, many BTS fans believe that he is "mocking" BTS and ARMY regarding the boy group's recent appearance at the UN General Assembly.
BTS fans think that James Corden is "insinuating" their idol and consider that their appearance at the UN General Assembly is only because they have a large fan base, making world leaders "wary" not because of their positive influence and contribution.
In addition, many BTS fans feel offended after being called "15 years old girl" by James Corden. ARMYs were also angry that James Corden invited BTS to his show not too long ago, but now he's mocking the group on television.
The hashtag #JamesCorden rose to the top of Twitter trends as BTS fans simultaneously asked him to apologize to the group. BTS fans are "bombing" their social media accounts with critical comments. However, many people defended James Corden, claiming that it was all a joke with no ill will, and that was also his style.
Some of the relatively scathing comments included, "Actually I'm 20 years old and you have to understand that 15 year old ARMYs are the best fans in the world. No kidding. Watch your mouth", "Yeah, sorry for you. BTS doesn't need humans like you. ", "I'm really disappointed in you. Hate you!", "Seriously, James? I expected more from you!"
In addition to the comments above, BTS fans also use icons to express negative emotions that are aimed directly at James Corden. The fact that some of BTS's fans "attacked" James Corden after a joke on a TV show has sparked controversy, so netizens find it unacceptable that some of the rabid fans leave negative comments under posts to commemorate a deceased person.
In the face of a wave of anger from some BTS fans, other fans urged them to remain calm and show no disrespect under posts commemorating the deceased. Fans also pointed out that negative comments under posts like this only lead outsiders to misinterpret the ARMY community.
"ARMY! Please stop complaining about BTS in this post, it's about someone's death. Don't be rude, I know we are all hurt by what happened but here not the place to make all these comments let's respect pleaseeeee", "ARMY please stop commenting on this post. It's about someone who died. Please appreciate and comment on one of the posts!!! Leave this one."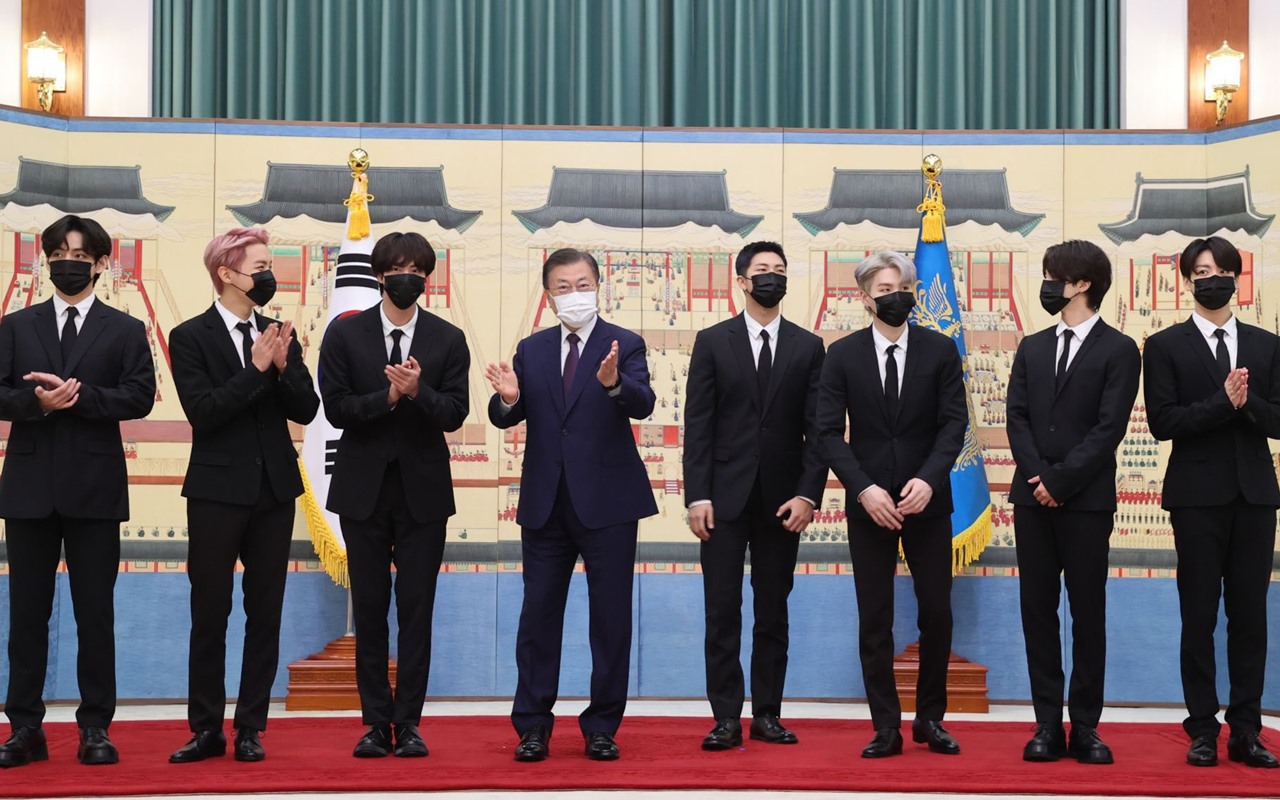 South Korean President Says BTS's Words Are More Influential Than His Own Speech
During An Interview With Juju Chang For The Show 'Good Morning America,' President Moon Jae In Revealed Why He Thinks The Members Are Effective Special Envoys.
President Moon Jae In and the members of BTS ( Bangtan Boys ) recently had an interview with Juju Chang for the show " Good Morning America ". During the interview, the number one person in South Korea revealed why he thinks the members are effective special envoys.
As is known, the BTS members were appointed as Special Envoys for Future Culture by President Moon. BTS and President Moon's interview with Juju Chang was filmed after the UN General Assembly. President Moon explained why the BTS members are the perfect special messengers.
President Moon said, Because BTS represents the younger generation, and many young people relate to them, I believe they can spread awareness and empathy.
President Moon also praised BTS for helping it achieve its goal of spreading awareness for the United Nations' Sustainable Development efforts. There are no other words other than praise for RM ( Rap Monster ) and friends.
We have achieved that goal. It was a huge success. It was much more effective than hundreds of speeches delivered by the UN Secretary General or myself," the president said.
BTS is as passionate about their diplomatic role as the South Korean president they will be working with. Jungkook said, "It's still hard to believe that we made a speech and performed there. Being appointed as a special envoy, it felt like time had stopped."
Meanwhile, BTS has returned to South Korea on September 24 around dawn. Marking their first overseas trip in more than two years, ARMY hopes this is the first of many trips that BTS will take in the future.