Ahn Bo Hyun Is Soaking Wet In The Arms Of Kim Go Eun, The 'Yumi's Cells' Team Leaks Unexpected Chemistry
In The Latest Cut Of 'Yumi's Cells', Ahn Bo Hyun Is Seen Holding Kim Go Eun In A Wet Position. The Production Team Then Leaked The Unexpected Chemistry.
The production team gave the latest leak for the drama " Yumi's Cells " which aired this weekend. The drama, starring Kim Go Eun and Ahn Bo Hyun , stole attention because it included animation elements in it.
Adapted from the popular webtoon, "Yumi's Cells" tells the story of an ordinary career woman named Yumi (Kim Go Eun) and raises the point of view of the brain cells in her head that control her every feeling, thought and action. While Yumi struggles to express her feelings, she meets Goo Woong (Ahn Bo Hyun), an honest game developer.
Read More…
White Snake II: The Tribulation of the Green Snake
Shang-Chi and the Legend of the Ten Rings
The Suicide Squad
F9: THE FAST SAGA
Dune
In the previous episode, their blind date ended with Yumi impressed by Goo Woong's honest and considerate personality different from his first impression. But as stress builds up in the cell "Hysterius" takes over her brain performance and her cell phone crashes in the middle of a conversation with Goo Woong, Yumi decides that she doesn't want to be hurt by love anymore.
After thinking about giving up on the budding romance and putting aside any intentions of pursuing a new relationship, Goo Woong suddenly appears outside Yumi's office. Holding an umbrella, Goo Woong protects Yumi, making the audience's heart flutter.
In the newly released stills for episode 4, Goo Woong comes to Yumi's rescue. Drenched Goo Wong took the unconscious Yumi to the ER in a panic after the woman fainted in the pouring rain.
As soon as Yumi regained consciousness, Goo Woong nervously approached her and checked if she was okay. Then the production team of "Yumi's Cells" also gave an interesting leak to viewers as the scene was uploaded.
Due to Goo Woong's aggressive pursuit of Yumi, new cells will emerge and take the lead. Please look forward to the cell pool filled with unexpected and entertaining stories. You should also pay attention to the chemistry of Kim Go Eun and Ahn Bo Hyun which will shine brightly (in the episode future)," said the production team.
Meanwhile, the continuation of the story of Yumi and Goo Woong can be seen in the next episode of "Yumi's Cells" today, Saturday (25/9). This drama is broadcast every Friday and Saturday at 22:50 local time.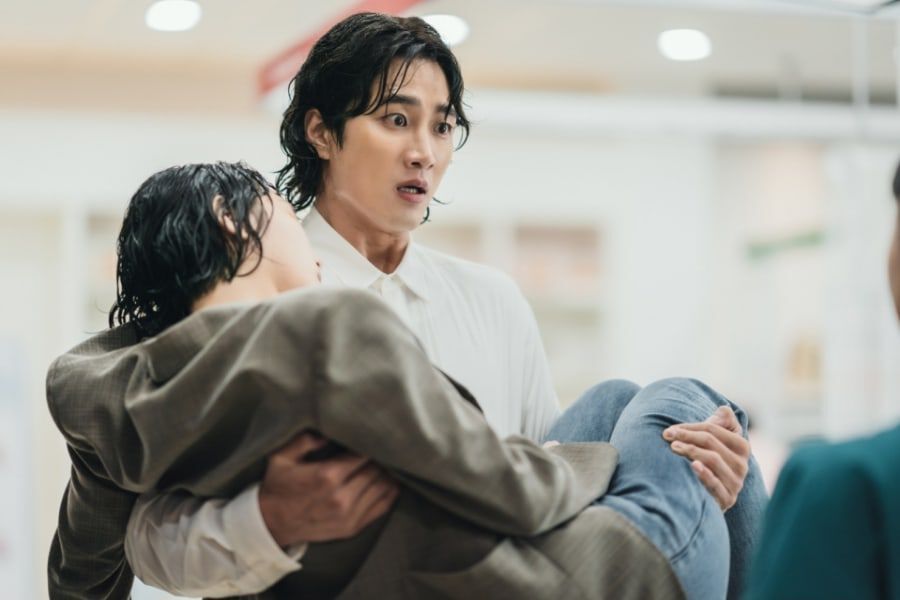 Kim Go Eun And Ahn Bo Hyun Want These Cells If The 'Yumi's Cells' Concept Is Real
During A Recent Interview, Ahn Bo Hyun And Kim Go Eun Revealed The Cells They Would Want If The 'Yumi's Cells' Concept Were Real. How Do They Say?
Kim Go Eun and Ahn Bo Hyun recently had a photo shoot with ELLE Korea magazine . On this occasion, the " Yumi's Cell " couple talked about many interesting things about the drama.
Read More…
The Medium
Free Guy
A Quiet Place Part II
Don't Breathe 2
Candyman
During the interview, Kim Go Eun and Ahn Bo Hyun revealed what cells they would like to have if the "Yumi's Cell" concept were real. Kim Go Eun chose the active cell, while Ahn Bo Hyun needed the comedy cell.
Kim Go Eun said, I have respect for people who consistently exercise or study every day. I am a person who gets bored easily, so I need a hard cell. Ahn Bo Hyun commented, I'm not a funny person, so I want to have a comedy cell.
Ahn Bo Hyun then shared his thoughts on this drama. According to him, the story of "Yumi's Cell" is quite realistic even though it is accompanied by funny animations.
He said, Cells made with 3D animation are unusual, but in reality, the story of Yumi and Woong is small and realistic everyday life.
Even when they hear stories from people who like the original webtoon, they say that they feel they grew up with Yumi,concluded the 33-year-old actor.
Meanwhile, "Yumi's Cells" started its journey with mediocre ratings.
Nevertheless, this drama received a lot of praise for presenting interesting animations supported by a quality directing style. In addition, netizens were also impressed by the acting skills of the main actors.